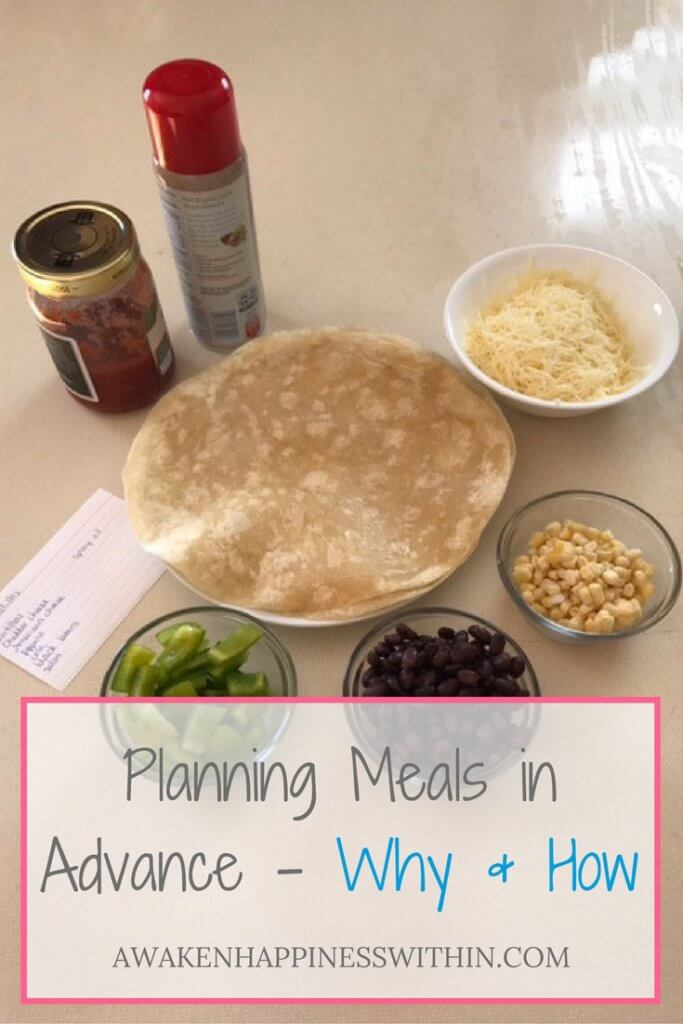 Planning Meals in Advance – The Why
We began planning meals in advance shortly after our fourth child was born. Our oldest daughter turned six just a week and a half after his birth. With four children aged 6 and under and both Nick and myself working full time, we had to make some changes to make life a little smoother.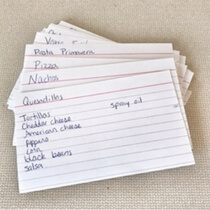 One of the easiest changes we made was that we began planning our meals for the week in advance. We wrote down many of our favorite meals on index cards, including the ingredients needed for each meal.
This post contains affiliate links. For more information see my disclosures here.
Planning Meals in Advance – The How
We have a large dry erase monthly calendar, very similar to this Dry Erase Monthly Calendar. On Saturday mornings, we plan our meals for the week in the notes section of the calendar. We have two weekly traditions: Monday is Nacho Night, and Friday is Pizza Night.
(To find out more about these traditions, check out our posts about Nacho Night for Nick and myself as well as Pizza and Movie Night for the whole family.)
We like to have some flexibility on the weekends because our weekend plans seem to change frequently. That leaves only three other weeknights to plan for.  We also try to keep these meals on the healthier side.  It is easier to eat healthy knowing that we have fun meals on Monday (for me and Nick) and Friday (for the whole family).
Once our meals for the week are planned, I can use the ingredients list on the index cards to create our shopping list very easily. I go grocery shopping on the weekends. At that point I buy everything necessary for the week because I know exactly what I'll be making.
Related Post: No Microwave, No Problem
Preparing in Advance
Planning meals in advance makes the hectic work week a little less hectic . I know what I'm cooking each night and I have all of the necessary ingredients on hand.
I also like to prepare whatever I can in advance. I love to cut up any veggies we will be needing in the next day or two. Sometimes when one meal is cooking I am prepping for the next day! Also, we are better able to stick with healthier eating. I waste no time trying to come up with a meal idea.  Much of the preparation is already done. All I have to do is cook it!
Sign up for our emails in the box below and you'll also receive our free Weekly Meal Planner!
Do you like to plan out your meals in advance? Please let me know in the comments section below.
We are a participant in the Amazon Services LLC Associates Program, an affiliate advertising program designed to provide a means for us to earn fees by linking to Amazon.com and affiliated sites.