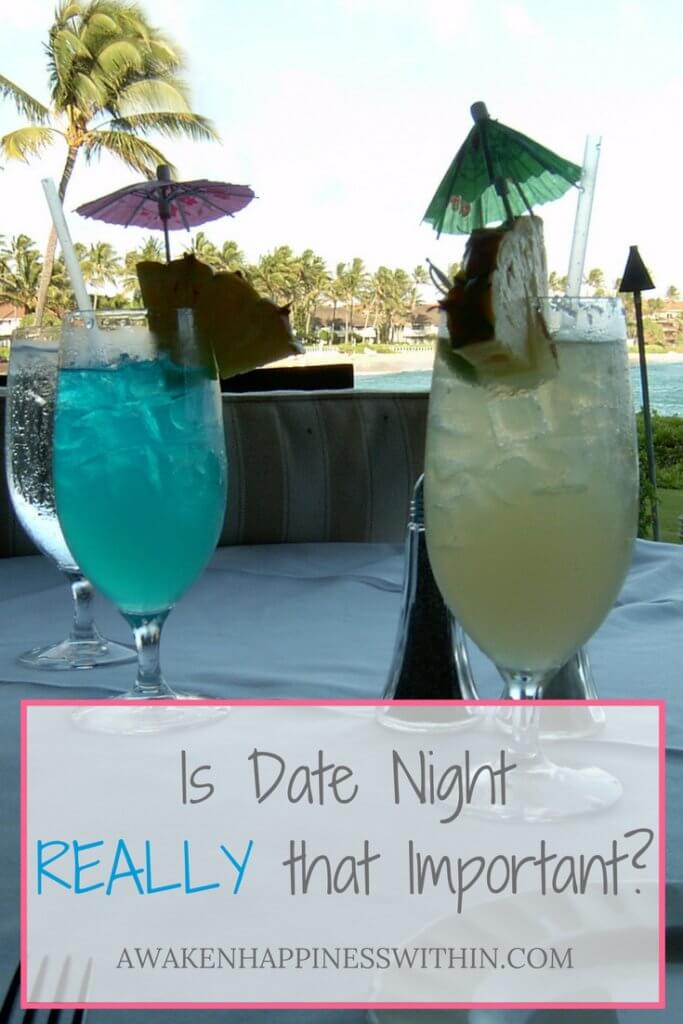 In a word, yes. Date night is important, even when (or especially when) you're married. Eligible Magazine's article 11 Reasons Date Night is Critical Even if You're Hitched suggests making time for weekly date nights.
All relationships need nurturing. This goes for couples with or without children. Spending time together on your relationship helps it to grow and makes you feel more connected. It also helps you develop a better quality relationship. Everybody says that communication is key in a healthy relationship. It is hard to communicate when you don't have time alone together. Spending time together communicating allows you to focus on things that are important to each of you.
This post contains affiliate links. For more info, see my disclosures here.
Remember when you used to get so excited to go on a date with your significant other? Date night can bring back that feeling. Doing something fun together increases happiness in your relationship. (Need some date night inspiration? Read our 30 Fanstatic Date Night Ideas post.) It also ignites passion and romance. You and your significant other usually try to make a date more special than daily life together. This increases satisfaction with each other and within your relationship.
Scheduling a regular date night is essential in every relationship. We are all busy. Without scheduling date night, it often doesn't happen. When you take the time to plan a date, you are telling your significant other that he/she and your relationship is a priority.
Related Post: 30 Fanstatic Date Night Ideas
Our Date Night Tradition and Story (With our nacho recipe included)
My husband Nick and I realize that our time with our children as they grow up will go by very quickly. It already is. While we know having time to ourselves is essential for a healthy marriage, we don't regularly leave the house for 'date night'.
As New Parents
When we first became parents going out on a date was challenging for two reasons: needing a babysitter and financial reasons.
My mom watched our baby approximately 50 hours a week while we worked. We didn't want to ask her to watch the baby again at night or on the weekends. Nick's parents lived over an hour away. They were willing, but it wasn't convenient. We also wanted to hang out with them if they (or we) were going to travel.
At the time we had our first baby we had been married for just over a year. In eight weeks time we had a new baby, Nick started a new job, we moved, and we bought a new car. That's a lot of major life changing events happening in two months time! We were really working hard to pay off our credit card debt and didn't want to use that money to go out on date nights. Nick was also working a second job refereeing hockey and was out of the house the majority of the time from Friday after work until late Sunday night.
We decided to create our own date night every week after our daughter went to bed. The only TV show I really wanted to watch each week was The Bachelor on Monday nights. Before we got married I would make nachos and watch the show each week. Nick watched it with me sometimes and it really got us talking about relationships: the ones we saw on the show and our own. He also would really make me laugh with some of his comments. We implemented a nacho/The Bachelor date night on Mondays to spend some time together. We knew we always laughed during the show and it often triggered some type of communication about our relationship in an easy going way.
An added benefit of our date night routine was that it was a great thing to look forward to on Mondays. It made the day go by much faster, which made the workweek a lot easier. When The Bachelor or The Bachelorette wasn't on we often would watch a movie together and have discussions about it and topics that arose while watching it.
The article Date Nights: They Are More Important for Your Relationship Than You Think says that it is important to have a screen free date night so that you can focus on each other, but we find our tradition beneficial because it gets us talking about things that are important to us. Sometimes we're having such a great conversation we miss part of the show. But that's OK. It's really meant to be a jumping off point. Most of our conversations during the week are screen free conversations.
Now
Nine years later we have a babysitter on occasion and we are in a better position financially, but we have continued the nacho night tradition.  And because nacho night is so important to us, we avoid scheduling anything for Monday nights. Our Monday nights together are a priority. We even have nacho night on vacation if we are staying in a place with a kitchen!
The extra bonus is that we are not taking any family time away from our kids. If we want to go to a movie, we make it a family friendly movie and take them too. If we're going out to eat, they come along. We treasure the time we have as a family. By having our nacho night we are able to have the best of both worlds. We get to have a date night that we both really enjoy and maximize the time we spend together doing fun things as a family.
The older girls recently noticed that we don't eat with them on Monday nights (we make it a point to eat together every other night and we sit with them while they're eating on Mondays) and wondered why. We explained to them that parents need date nights. We let them know that a weekly date night is important in a healthy relationship so that the two people can connect and that many couples leave the house for date night, but we have our date nights at home on Monday nights. Though they seemed to understand our explanation, they were more interested in the nachos. Now they even get their own nacho night some Mondays!
If you'd like to implement your own nacho night check out the recipe below.
Keri & Nick's Nacho Night Recipe
Items Needed:
Ingredients:
Tortilla chips
Shredded cheese (we like to use cheddar)
Salsa (mild for Nick, hot for Keri)
Nacho toppings: black beans, bell peppers, corn, jalepenos, onions, tomatoes, shredded lettuce, anything else you prefer on nachos
Instructions:
Preheat the oven to 350 degrees.
Spray a cookie sheet with olive oil or line it with parchment paper.
Spread your preferred amount of tortilla chips on the cookie sheet. I like them to touch without overlapping.
Spoon salsa on top of the chips and sprinkle shredded cheese on top of the salsa.
Sprinkle your preferred nacho toppings on top of the cheese.  Save cold toppings, like tomatoes or lettuce, for when the nachos come out of the oven.
If you like your nachos with just salsa and cheese (like Nick) bake them for 6-8 minutes until desired doneness. If you like additional toppings (like Keri) bake the nachos 10 – 12 minutes until desired doneness. You will know they are done when all of the cheese has melted.
Share your favorite tradition or date night in the comments below!
We are a participant in the Amazon Services LLC Associates Program, an affiliate advertising program designed to provide a means for us to earn fees by linking to Amazon.com and affiliated sites.