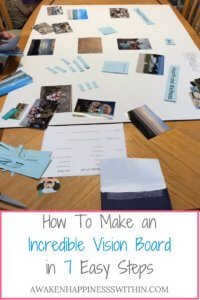 Why Should I Create a Vision Board?
Why would someone take the time to create a vision board? How does it work?
Scientific research has proven that you will more easily accomplish your goals if you visualize achieving them first. The article If You Envision It, It Will Come explains that when you visualize something, your brain begins to work to move you toward that goal. This often happens subconsciously. Many professional athletes use this technique to help them improve their performance.
You can apply the same strategy that professional athletes use to your own life. By simply visualizing what you want out of life, your brain will work behind the scenes to enable you to reach your goals. Vision boards work because they help you to figure out and articulate exactly what it is you want out of life. Now your brain has the destination and just needs to figure out how to get there.
This post contains affiliate links. For more info, see my disclosures here .
How Do I Create a Vision Board?
Your vision board is about you. Imagine your best life. What does that look like? How do you feel? Choose words and images that answer those questions and fulfill the vision of your dream life.
Vision boards can be created on your own or with someone else. You may want to create a vision board with a business partner, spouse, friend, etc. Nick and I create our vision boards together. I will share our process below. It is important to note that the process is basically the same when you're creating a vision board on your own.
We each visualize our dream life and make note of the categories that pop up. Our first vision board included the categories of Stewardship, Financial Freedom, Dream House, Healthy Body, Clean and Organized Home, Beach House, and Family Time.  Our current vision board is simplified to God, Health and Wellness, and Financial Freedom.
Once we are clear on what categories to include, we focus on finding images that fit those categories. You can cut them out of magazines, search online, or use your own photos. We have found that using our own photos is by far the most effective method for us because they intensify the feelings associated with them. It is easier for us to envision achieving those outcomes when we have personal connections to each category through our own photos.
Find a poster board, large piece of paper, or some other material to construct your vision board. Our first one was created on two pieces of poster board that we hung side by side. Our current vision board uses Elmers 730205 Project Board Display, Tri-Fold Board, 36 in.x48 in., White.
We like to print out our words on construction paper or tag board. It is so much easier, and looks better, than trying to hand write everything!
Place your words and images on your board. You may end up with more material than you can use. If that is the case you will have to make some decisions about what's in and what's out.  One way to do that is to look at each item and ask yourself if it fits in with your vision. If it's a definite yes, keep it. Otherwise, it doesn't make the cut.
Also, concentrate on how each word or image you put on your vision board makes you feel. Important note: *When working with someone else it's important to do this together so you keep everything each of you really loves.*
Play around with different arrangements. You will often arrange everything multiple times before arriving at a finished product.  We had at least 3 different working versions of our current vision board until we found the one that felt right.
Permanently affix your words and images to your board. We like to use tape. It's permanent enough to keep everything in place and allows for some minor changes if necessary.
Find a place to display your vision board so you will look at it every day! (We use Command Picture Hanging Strips Value Pack, Medium, White, 12-Pairs (17204-12ES) to hang our board. We put one on the top in the middle and one on each side toward the top.)The more times you can view it the more effective it is.  Nick likes to take a picture of a portion of our vision board and use it as the background image on his phone.
Your vision board is complete!  Now what?
Join me in the related post: I Made a Vision Board. Now What?
Also, comment below or email me if you have any questions about creating a vision board!
What are your thoughts on creating a vision board?
We are a participant in the Amazon Services LLC Associates Program, an affiliate advertising program designed to provide a means for us to earn fees by linking to Amazon.com and affiliated sites.