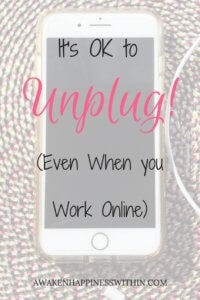 Working online means that I am often near some type of computer, even if it is just my phone. Notifications seem to constantly sound and I find myself checking them often. Does this sound familiar to you too? While it usually is pretty easy to manage, there are times that I have (or want) to be offline.
The Dilemma – Unplugging from the Internet
Our family loves Disney! Nick and I have wanted to take the kids to Disney at Christmas time for a few years. With four young kids, navigating the crowds at Disney World the week between Christmas and New Year's is a definite 'no' for our family. We really wanted to take the kids the first week of December. That way we could get the full Christmas experience with much smaller crowds!
We decided to surprise the kids with an early Christmas present this year. One day after school, the kids came home to find an early gift under the tree. Inside was a Disney sweatshirt and a Magic Band. They quickly figured out what that meant! We were in the car in less than in hour.
Getting ready for this trip was a little different. In addition to packing in secret, I also prepared as much as I could ahead of time for Awaken Happiness Within. Taking a ten day trip only seven weeks after launching our website made me a little nervous. I wanted to keep growing our site even while at Disney World. I wrote and scheduled posts and emails. In addition, I created a detailed list with everything I needed to do for Awaken Happiness Within throughout our trip.
I had spent a long time creating a schedule for myself that included various small things I could do for the website each day. I began working about 30 minutes into the drive. When Nick asked what I was doing I explained my schedule. He voiced a concern that I would be focusing on the website instead of enjoying our trip.
At first I really thought I could do both. I was able to accomplish my first set of tasks… then it was my turn to drive. The alarm on my phone started ringing. Obviously, all I could do was turn it off. That got me really thinking about my plan. If I was having this much trouble with early on, would I really be fully present throughout our vacation?
Related Post: The Best Reason to Take a Vacation
The Solution
I decided to ignore my well thought out, though impractical, plan. Instead, I was fully present and totally engaged during our vacation. Once in a while, like first thing in the morning or right before bed, I would work for five minutes or so. That being said, my plan stayed in the glove box of our car for the entire trip.
Giving myself permission to unplug from the internet a little, even as a website owner, allowed me to really enjoy our vacation.
The Outcome/Takeaway
When we arrived home after a 22 hour drive, I did not write the email I had planned. I realized that writing with that level of exhaustion was probably worse than not writing at all. And it was OK! Although traffic to the website fell off quite a bit over the course of 10 days due to very little work on my end, it picked up again very shortly after we got home.
While there was the drawback of less reader engagement for a few days, it was totally worth it to be able to enjoy Disney World with my family. I was able to catch every eye twinkle, every smile, every question and even every complaint about being hungry. I was fully present and it was worth every moment! There was nothing on the schedule I had created that was a 'must do'. Those had all been taken care of before we left. I would have regretted missing out on an experience because I was looking at my phone to do one more thing.
I also realized that through proper planning, I can be more present in my everyday life as well. Having a well thought out schedule of tasks that I must take care of each day allows me to be away from the computer or my phone for hours at a time, even when I am working online. This gives me the opportunity to really focus first on my family.
Tips to Consider Before Unplugging, Especially When You Work Online
Plan. Figure out what needs to be done during the time that you're away. Create a plan to ensure all essentials are taken care of before you leave.
Work your plan. Make sure you have auto scheduled any work that is due on a specific day. It will take the pressure off when all necessary work is completed and scheduled.
Give yourself permission to take a break. At this point, all essentials are taken care of. If you must, check in occasionally. Then go offline and enjoy yourself! Missing a minor thing here and there is OK. The work will be waiting for you when you come back! Once you give yourself permission, taking some time away from your digital life becomes much easier.
What are your tips for taking a break from the internet?
Related post: 11 Ways to Master a Work-Life Balance