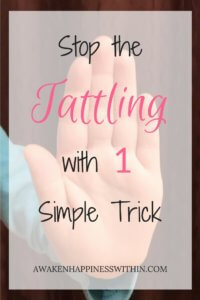 The words "I'm telling" are heard a lot in a household with four kids, ages 3 -9. They love being around each other. They love playing together. And they love tattling on each other. It can be anything from "She dropped a crayon." to "He hit me." Are you in the same boat?
The Strategies We Tried
We have tried some of the more traditional methods. Just asking them to stop tattling failed.  We then moved into some 'tattling education' learned from my teaching career, where we talked to them about 'telling' – behavior we need to know about (dangerous or destructive) versus 'tattling' – behavior they can deal with themselves (annoying). There was some role playing involved.
The older two children definitely understood the difference between telling and tattling. Our discussions and role playing even worked sometimes. When they came over to us with a complaint, we would ask them if they were about to tell us something we really needed to know or if they could solve the problem themselves. Sometimes that would stop them and they would immediately go back to playing. Most of the time it ended up with them tattling.
Related Post: Three Quick Ways to Get Kids to Cooperate
A New Approach
Nick and I decided it was time to take a different approach. We are teaching our children about the power of positivity and about creating your own happiness. In short, we are teaching them that approaching life with a positive outlook attracts more positivity into your life. In addition, they are learning that although circumstances may be out of their control, they are in control of their reactions to everything in their lives.
We decided to incorporate some of this learning into our approach to dealing with tattling. Also, we realized that sometimes kids just need to tell an adult about something that they dislike.
Again, we talked to the kids about behavior they should report to an adult right away (dangerous or destructive) and behavior they could deal with themselves (anything of the annoying variety). We also acknowledged that sometimes they know a behavior fits into the annoying category and they just really want to tell us about it anyway.
In our new approach the children are still required to let us know about anything dangerous or destructive. Now, they are also allowed to tell us anything they feel we need to know. The difference is that if they decide to tell us about another child's annoying behavior, they also have to tell us two positive things about the other child. (Related post: Raising Grateful Children)
How Did This Approach Start?
After a fairly dramatic and emotional complaint by one of our children over basically nothing, we had our daughter write down ten things she liked about the sister she had complained about. The result was terrific! She made a list and read it to her sister. Her sister loved it!
About an hour later and unbeknownst to anyone, her sister wrote her a list back and read it to her. At that point, we decided on our new approach and were confident that it would work well.
Related Post: Raising Grateful Children
The Results
We have been using this method for about five months. So far, we have noticed three main benefits. First, the number of tattles has decreased dramatically. Giving the kids 'permission' to tell us about the annoying behaviors almost seemed to make them less significant. They started using the strategies we taught them about dealing with annoying behavior with greater frequency on their own.
Secondly, they are learning to view their siblings in a more positive light, even when they are bothering each other. They are easily able to come up with positive things to say about each other.
Lastly, when they do feel the need to tattle they know they can. Nick and I feel strongly that it is important for the kids to feel that they can tell us anything. If something is bothering them a lot, we want to know. We also help them to work through how they could have handled the situation differently.
Tattling still happens in our house, especially with our three and four year olds. It is developmentally appropriate for them because they are learning how rules work. We are confident that as they watch their older siblings navigate the boundaries we have set, it will come naturally to our younger kids.
What tips do you have for dealing with tattling?