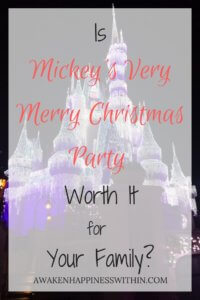 We are a Disney loving family! From the movies to the toys and costumes, and even to Walt Disney World itself; we like a little Disney (OK, maybe a lot) in our daily lives. (This is evident in Spirituality, Disney Style.) So needless to say, we were all super excited to attend Mickey's Very Merry Christmas Party for the very first time.
This post contains affiliate links. For more info, see my disclosures here.
(Want to talk Disney with us? Join our Disney Planning Facebook group!)
The Benefits
Entertainment – The biggest benefit to attending Mickey's Very Merry Christmas Party are the special events. There are so many things available to party guests only. Guests are able to see an exclusive Christmas party show in front of the castle. There is also an amazing Christmas parade with Santa and snow! Holiday Wishes is a fireworks spectacular that only takes place at the party. There are also other shows and a dance party that are only available to party guests.
Special Character Appearances – In addition to the entertainment, there are seldom seen characters available for meet and greets. These characters include Nick Wilde and Judy Hopps from Zootopia, the Seven Dwarves from Snow White, Jack Skellington (as Sandy Claws) from The Nightmare Before Christmas, Aladdin and Abu, Jasmine and Genie, Moana, Captain Jack Sparrow, Peter Pan, Santa Goofy, as well as other characters that you may be able to meet at character dining experiences.
Complimentary Holiday Treats – There are seven stations serving complimentary holiday treats throughout the park. Our favorites were the Ginger Molasses Cookies served with Eggnog and Snickerdoodle Cookies served with Hot Chocolate. Each station serves something different and you can go back as often as you'd like. The stations are clearly marked with giant inflatable peppermint sticks and are easy to find.
Shorter Wait Times for Rides – Due to the limited number of tickets sold and the many exclusive events happening only during the party, wait times for rides are much shorter than during regular park hours. If rides are important to you, take advantage to squeeze in as many as possible during the party hours.
Exclusive Merchandise – There is some really adorable Mickey's Very Merry Christmas Party merchandise available for purchase at several locations throughout the park.
The Drawbacks
The Price – The Christmas party is relatively expensive. It costs almost as much as a full day at Magic Kingdom for only 5 hours of time. Why would people pay a similar price for less park time? The theory is that because tickets are limited and there are more things to do, people will be more spread out, meaning fewer crowds. In addition, party guests are able to enter Magic Kingdom at 4:00 PM and enjoy rides, attractions and restaurants upon entering. This would end up giving people about 8 hours of time in Magic Kingdom.
The Time – Mickey's Very Merry Christmas Party runs from 7:00 PM to midnight. This time frame is less than ideal for those with young kids (our family fits into this category) since they may sleep through most of the party or become extremely cranky as the night wears on.
The Crowds – Though there are a limited number of tickets to the Christmas party, the number is still in the tens of thousands. Many people are there to focus on the exclusive events which means those events are very crowded.
Related Post: 11 Must Haves for Disney World
Our Experience
As previously mentioned we were all super excited to attend Mickey's Very Merry Christmas Party for the first time! We were able to grab a map specifically for the Christmas party a few days ahead of time when we were at Magic Kingdom for a park day. Using the map, we planned out what our 'must dos' were for the party ahead of time.
We were most interested in the stage show, the parade, the fireworks and meeting a few rare characters. Also, our chosen Christmas party night was predicted to be the least crowded party of the year. For these reasons, we were pretty confident we could do everything on our 'must do' list and probably fit in a few others.
We went to Magic Kingdom in the morning and were happy to see a relatively light crowd throughout much of the day. Around 4:00 PM the crowds became heavier. We figured it was due to the cross over time between the day guests and the party guests and that the crowd would thin out after 6:00. That didn't happen. Before 6:00 PM there was an announcement made that the park would be closing soon for Mickey's Very Merry Christmas Party and that tickets for that night's party were sold out! There was actually a larger crowd at the party than there had been during the day!
The Shows
Making the stage show a priority, we arrived about 45 minutes prior to the starting time and were able to get a fabulous view of the stage. Because we arrived so early, we were a little unprepared for the throngs of people moving around Main Street when the show was over. There were people pushing in front of us when we were clearly waiting to move. At one point, I was trying to let someone in a wheelchair past and a steady stream of people walked right in front of the person in the wheelchair! People also tried to step right over our daughter in her stroller! Luckily Nick put a stop to that!
When we finally left Main Street we went straight to Frontierland to find a spot for the parade. We lucked out. We met the nicest family! They were saving spots for some other family members who had gone to get pretzels and snow cones. We told them we were fine with standing behind them. When their family members came back, they shared the treats with us and even made space for our kids to have a front row view of the parade! The Christmas spirit was alive and well and we all enjoyed the parade, except for our youngest who had fallen asleep.
Related Post: Is the Disney Dining Plan Worth It?
The Dance Party and Characters
Next, we went to the dance party where we were also able to get some cookies and hot chocolate. The treats were delicious and our older two had a great time dancing while the younger two slept through the blasting music.
The only characters that the kids really wanted to meet were Nick and Judy from Zootopia, so we made it over to their line. There was only about a 30 minute wait to meet them.
After that, we were able to watch the fireworks from a bridge near Tomorrowland. We felt more comfortable being in a less crowded area and still had a great view of the show. At that point it was almost 10:30. The older girls wanted to meet the Seven Dwarves. When we got there the line was at least double the line we had been in for Nick and Judy and the kids were getting really tired. We decided to get one more snack and head out.
Was Mickey's Very Merry Christmas Party Worth It?
For a Disney loving family, it was definitely worth going to. We got to experience a lot of things that are normally unavailable. Also, the kids were so excited to be a part of the Christmas party.
That being said, we will probably wait several years to go again. The crowds in and around Main Street were definitely larger than we expected. Once we left the Main Street area, crowd levels became more manageable. The crowds made travelling with strollers more difficult than normal. In addition, two of our four children slept through at least half of the party. At the end of the day, we all had fun. We were also able to accomplish everything on our 'must do' list.
When figuring out if Mickey's Very Merry Christmas Party is right for your family, it is important to consider what matters most to you.  If you're interested in meeting special characters and experiencing lower wait times for rides the party might be for you. You may also want to go for the exclusive shows and the complimentary treats.
The hours of the party may be less than ideal for those families with young children. In addition, the price may be more than some people want to spend for the amount of time given in the park. I'm sure you will make the best choice for yourself and your family!
(Thinking of staying in a Deluxe Resort? You may want to rent DVC points instead for a fraction of the cost!)
Do you have any other questions about Mickey's Very Merry Christmas Party? Is there anything else you'd like to add?