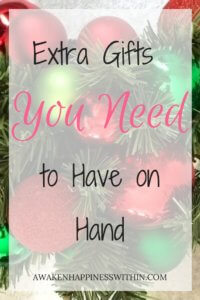 All of a sudden the office Christmas party is here or you're on your way to meet up with a friend. You're scrambling to find the gift you bought, or thought you bought. Then you realize that you meant to pick something up and still haven't done it yet!
Have you even been faced with a scenario like this? Have you ever received an unexpected gift and wished you had a gift to give in return?
This post contains affiliate links. For more info, see my disclosures here.
Related Post: 7 Awesome Gifts for Anyone on Your List
The Perfect Solution
I love giving gifts to people. It is exciting to carefully select a gift for someone and see the joy on their face when they open it. That is the ideal situation.
With the hustle of the holiday season there have been times where I have been caught unprepared. In those moments I feel terrible. I know the other person has given me a gift because they truly want to. They usually do it without any expectation of a gift from me. Still, I want to reciprocate and give them a gift too.
It is because of instances like the ones previously mentioned that I like to have extra gifts on hand. Then if I am caught unprepared I have something for the occasion. I usually buy things that are general enough that almost anyone would be happy to receive the gift.
Luckily, most years I still have my extra gifts weeks after Christmas. I am always excited to see them because it means that I was able to purchase everything I needed ahead of time. I also feel relief knowing they were there just in case. So what do I do with these extra gifts?
When purchasing extra gifts I always make sure it is something I would use myself. In doing so I know it is a gift that would be valuable to almost any recipient and it would hopefully make them happy. I also know that if I still have it when the holiday season is over I will end up getting it. Yay!
Related Post: The Ultimate Black Friday Shopping Guide
Best Extra Gift Ideas
Gift cards – Everyone loves gift cards! Recipients can go out and buy something specific when given a gift card to a store. Restaurant and movie theater gift cards are also popular.
Candles – A nice scented candle is a great way to give a little more atmosphere to any home. They are timeless and suit almost anyone.
Specialty hot chocolate or coffee – Williams Sonoma has a specialty hot chocolate that is amazing. Specialty drinks are more decadent than your every day drinks. They can lend a celebratory mood to almost any occasion. It may also give the recipient the opportunity to try something they normally wouldn't get for themselves and it's risk free!
Blanket – A beautiful blanket can be used as a decoration. It can also be the perfect thing to cozy up with on a cold day.
Bottle of wine – A nice bottle of wine is a classic gift. Many people like to share a bottle of wine (or two) with friends and family during the holiday season.
Specialty Snacks – These could be gourmet chocolates, chocolate covered pretzels or any type of festive treat. Many people love to eat these snacks though they only buy them for others. When they get them as a gift they're delighted. Nick loves Hickory Farms gift baskets.
What are some other extra presents that you keep on hand?