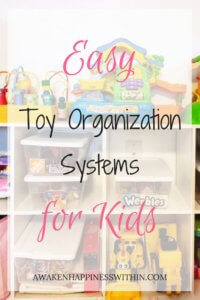 Kids' birthdays and the holidays are wonderful and provide so much fun! They're a great reason to gather with loved ones to share food and enjoy each other's company. With them also comes an influx of generous gifts. The kids love them! We just sometimes have a little trouble finding a place to put all these wonderful gifts (OK, maybe more than a little). Anyone else in the same boat?
**For our list of the best non-toy gifts, read here!**
We discovered an easy solution that even the kids can manage!
This post contains affiliate links. For more info, see my disclosures here. We are a participant in the Amazon Services LLC Associates Program, an affiliate advertising program designed to provide a means for us to earn fees by linking to Amazon.com and affiliated sites.
Step 1 – Organize and Donate
A few weeks before any major gift giving event, we clean up and organize as many toys as possible. I go through the toys of the younger children because they are too young to do it themselves. We put aside a few absolute favorites that they no longer play with, donate what they no longer need and organize what is left.
The older children are in charge of cleaning and organizing their rooms. They take a donation bag in with them and as they clean they put the toys they are ready to part with in the bag. This gives them the opportunity to organize the toys they want to keep as well as make room for gifts they are about to receive. They also have one large storage bin in which they can save anything of sentimental value. To ensure only the really important toys are placed there, they are only given that one bin. If they run out of room they have to choose to donate the toy they are trying to add or donate something else from the bin that may be less sentimental.
**Bonus parenting tip** Make sure to look through items your children decide to donate. If there is something in the bag you think they may regret donating, save it to the side for a few weeks. This can be done without your child knowing that  you are doing it. Donate it once you think the danger zone of possible regret has passed.
We speak from experience. One of our children decided to donate a toy that had been special to her (though not a favorite) when she was younger. We made sure she was really ready to part with it and she assured us that she was. Two days after donating it she had a meltdown and wanted it back. I tried to locate it for her and it was gone. More than a year later she still gets upset about it on occasion.
Related Post: This One Trick Will Get Your Kids to Listen
Step 2 – Sort and Organize What is left
Sort the toys by category or usage. We like to do a combination. We sort some toys by the type of toy, for example all Paw Patrol toys go together. Other toys we sort by category. All of the items for the play kitchen are sorted by usage, then sorted again by category. In the toy kitchen area we have play food and dishes, tea sets, serving utensils (such as spatulas) and pots and pans.
The easiest way to organize toys so that children can keep them organized and sorted is to use clear plastic bins like the ones below (12 boxes set Sterilite 6 Quart Storage Tote Shoe Box Containers Clear Closet Tub)
. This way the children can see what is inside and only open what they want to play with. It is also easy for them to clean up when they're done.
We also like the larger size bins (IRIS 12 Quart Stack & Pull Box, 6 Pack
) for toys that take up a little more space. They still fit on our shelving units even with a shoebox size container on top.

In addition, we sparingly use fabric bins when the larger clear bins are too small. Currently we are using one for play food and dishes.


Related Post: Raising Grateful Children
Step 3 – Label and Put Away
Once all toys have been sorted and put into the appropriate bins, it is time to label them. The best way to do this is having a worded label and a picture label. Children as young as 2 years old can put their toys back into the appropriate bucket when they see the picture of what belongs in it.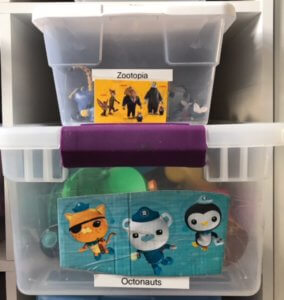 **Bonus parenting tip** We like to have extra bins on hand before a gift giving celebration. As we open new toys we cut out labels from the box and use packing tape to stick them on the appropriate sized container. Then when the child is done playing with the new toys set they can put it away immediately. The toys stay together and they're automatically organized!
When our children open a new toy we cut out a picture and/or the logo from the packaging. If we need them to create a new bin we use them right away. Otherwise we save these in a ziploc bag in case we need them.
There have been instances where we realized that we should create a bin for a certain type of toy and had nothing to use for a label. Now that we save these labels we have them available just in case. They take up only a little space and we know right where they are for future labeling needs. For example, when our son received Blaze and the Monster Machines toys for his birthday, we cut the picture and logo out and added them to the ziploc bag. We waited until he had several more before creating the new toy bin. At that point it took only about a minute to tape the labels on the side of the bin.
We store the bins in organizers that have cube shaped cubbies. They are able to hold two toy bins in each, one large bin and one small bin or two small bins. We have these in different areas of our house: the playroom, kids' bedroom and a play area set up downstairs. In addition to the 9 cube organizer we also have some 6 cube organizers. They come in other colors as well so you can be sure to find one that matches your decor.
Step 4- Place Additional Toys on Top
We like to put additional toys on top of the cube organizers, especially the ones that go with some of the smaller toys in bins. For example, the Weebles Tree House is placed on the organizer that houses the Weebles bin. The princess castle sits on top of the organizer with the princess bin. That way the child can find all of the pieces of the play set in one area and can also easily put them all away!
**Safety First** Make sure the toys placed on top of the cube organizer are light weight. They also need to be safely reached by the youngest child. Also, make sure that the organizer or shelf is secured to  a wall per the manufacturer's recommendations.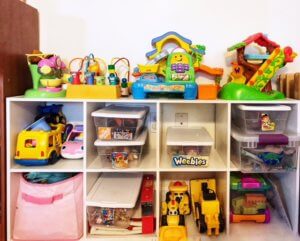 What are your favorite toy organization ideas?
We are a participant in the Amazon Services LLC Associates Program, an affiliate advertising program designed to provide a means for us to earn fees by linking to Amazon.com and affiliated sites.