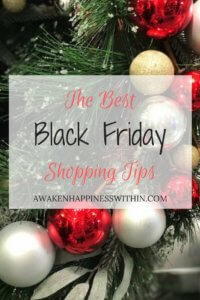 My husband Nick and I love going shopping together on Black Friday. We've been doing it for years and I've combined all we have learned to help you plan your best Black Friday ever!
Black Friday is a great day for Nick and I to go shopping together. We both have the day off and spend the entire day before with family. Saturday and Sunday are also family days so we're still spending a lot of time with the kids over the course of the weekend. In addition, we get great deals on many of the gifts we purchase!  Santa would be impressed.
Our tradition has evolved over the years and we want to share some of our best pointers with you. (Sign up here to receive access to our FREE Black Friday planner as well as all of our free printables.)
This post contains affiliate links. For more info, see my disclosures here.
Related Post: 7 Awesome Gifts for Anyone on Your List
Plan
It is important to have a plan if you want to get the most out of Black Friday in terms of both savings and fun. Nick and I are very relaxed about our shopping. Seriously.  We avoid the big ticket items, like electronics, that many are scrambling to find and that cause gigantic crowds. There are great deals happening all day. If we miss one we simply move on to the next. That being said, there are usually one or two items that we would really like to pick up. We prioritize the stores that carry those items.
To create our plan we look through all of the Black Friday ads from stores we will actually visit. (Actually, I look through almost every ad and Nick looks through about five).  We write down the opening times of each store and list items we are interested in purchasing there. I have done this two different ways over the years. In the beginning I would list each person I was buying gifts for and then write the ideas under that person's name. That got a little tricky when we were actually shopping. I would have to scan each person's list to make sure I remembered everything at each store. Now I create a list for each store and write the gift recipient's initials next to each item. I am able to track everything so much better this way! (With one exception, which you will see in the next section.)
Once we have figured out what we plan to purchase, Nick and I look to see if there are any must haves on our lists. We will make sure to go to those stores first. In planning our route we then take into account the opening time of each store as well as where it is physically located. We write down our route and the expected amount of time we will spend in each store to help us figure out when and where to take breaks.
**Note: It is important to check the opening times of stores every year! Last year Nick and I went to the outlets like we always do just to find out they would open in another hour and a half. Because of the location of the outlets in relation to the next store on our list it didn't make sense for us to leave and come back later. We made the best of it and were able to sneak in a quick nap while we waited. However we will be checking all store opening times this year.
Also, we prep everything on Thanksgiving night. I take a small purse with essential items only. My essentials include wallet, phone, keys, tissues and lip balm. It cuts down on fumbling through everything and is lighter. Less weight really makes a difference as the day goes on. I also put together a small bag containing a few snacks and some water bottles. Next, Nick and I lay out our clothes. Then, we go to bed super early. We actually go to bed when our kids do. That gives us a few hours of solid sleep. After hitting the snooze on our alarm a few times, we are able to quickly get dressed, brush our teeth and head out. (Access our FREE Black Friday printable by signing up here.)
Related Post: Two Secrets to Buying the Perfect Gift
Prep the Car
You will most likely be buying more than normal and need a place to put all of your great deals. We like to take everything we can out of the car the day before shopping. Also, because we shop together, it is important for us to both have a set of keys to the car. The one exception to the lists we create (as mentioned above) is that Nick and I each have a list of items we'd like to purchase for each other on a separate piece of paper. We will head in different directions at some stores to make purchases for each other. Ahead of time we will designate certain places in the car where we put items we have purchased for each other. This requires us to each have a set of keys to the car so that we can maintain the surprises for Christmas Day.
Budget
Many people find that they have a certain budget to stick to while shopping for the holidays. It is important to plan ahead to keep within budget. The deals can be very tempting! I have found that when I only purchase what I have written on my lists I am better able to stick to my budget.
Have Fun!
Nick and I enjoy hot chocolate together at two specific stops.  We intentionally stop at a local Dunkin' Donuts to pick up donuts for the kids as well as a snack for our elves (wink).  Also, there is a Lindt Chocolates store that is a must stop for the best cup of hot chocolate ever!  Three chocolate truffles are ground and serve as the base of this delightful beverage.  Being filled with holiday cheer, over tipping is encouraged as it increases everyone's joy.
Related Post: Extra Gifts That Come in Handy
Black Friday Tips to Get the Best Deals
Some deals are better online. I mentioned above that Nick and I avoid all big ticket items on Black Friday. It makes for a much more enjoyable experience. By chance I happened to be online looking up store information the Wednesday before Thanksgiving last year and noticed a sale on tablets at one of the stores. They were 50% off with free shipping. You can find deals online that are the same as or even beat the Black Friday deals.
Check out Ebates if you're going to shop online this holiday season. You can earn cash back with many online purchases. I have received actual checks totaling over $400 for making purchases online. You can read more about Ebates here.
Here is another online shopping hint for the holiday season: Amazon Prime will give you unlimited FREE two-day shipping in addition to other benefits. Try Amazon Prime 30-Day Free Trial to get free shipping from Amazon throughout the holidays. Just make sure to cancel it after 30 days if you no longer want the service! If you love it you could also give the gift of unlimited FREE two-day shipping to  a loved one! Shop Amazon – Give the Gift of Amazon Prime
Make sure your store credit cards are up to date. Many stores will reward you for using their credit cards. In the past I have received offers from Kohl's in the mail prior to Black Friday. I have received offers of $10 off any purchase (with a few exclusions) as well as 20% when using your Kohl's charge. You can use both offers in the same transaction.
If you have a Target Redcard you receive a 5% discount on almost anything you buy. That includes gift cards to many other stores. If you want to save even more, you could purchase gift cards to the stores you plan to visit on Black Friday and receive 5% off those gift cards!
Mind the time.  You will often find the best prices earlier in the day. With that being said, some stores do offer later in the day deals too. It pays to check.  And remember that some deals often expire at a certain time.
You can really take advantage of some amazing deals by purchasing gifts for events beyond Christmas as well. I like to stock up on birthday presents on Black Friday that I save for later on in the year.
What are some of your Black Friday tips?
We are a participant in the Amazon Services LLC Associates Program, an affiliate advertising program designed to provide a means for us to earn fees by linking to Amazon.com and affiliated sites.