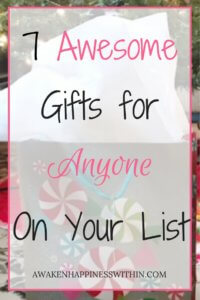 It's the most wonderful time of the year and it can also be the most stressful. As we add shopping, wrapping, baking, parties, etc. to our already busy lives it can feel like we're caught in a whirlwind. Add to that the pressure to find the perfect gift for each person on our lists and we're bound to feel a little overwhelmed. Whether you're shopping for a loved one who seems to already have everything you can think of or someone you don't know well (maybe from work), we have the perfect gift guide for you. There is bound to be something here that you can feel confident about giving to anyone on your list.
This post contains affiliate links. For more info, see my disclosures here.
Related Post: Two Secrets to Buying the Perfect Gift
Perfect Gifts for Anyone on Your List
Blanket – Everyone loves a soft, warm blanket. They are perfect for snuggling up on the couch and reading or watching a movie. Bonus points if it's customized to the recipient's taste! A few years ago I got Nick a blanket that has his favorite sports team's logo on it. He uses it all winter long! (Get an extra 5% off any Target order by using a Target credit or debit card. Apply here)
2. Candles – Candles are one of the most popular gifts for a reason. They are relaxing and add atmosphere to any occasion. Plus they smell amazing! People usually have multiple candles at any given time. This is one instance where giving someone something they already have is a good thing! (Tip – Buying a multipack like the one below gives you the option of separating the candles into multiple gifts, or giving some away and keeping some for yourself! It also often saves money over buying them individually.)

ArtNaturals Scented Candle Gift Set – 6 Piece Aromatherapy Set of Fragrance Soy Wax – Made in USA with Essential Oils – for Stress Relief and Relaxation
3. Slippers – Lots of people like to take their shoes off when they get home, especially if they've been wearing them for hours! That's where a comfortable and stylish pair of slippers fits perfectly. Slipping on a pair can cause immediate relaxation and comfort, especially if they are the comfy memory foam ones. Just make sure you know the gift recipient's shoe size! When in doubt go up a size.


RockDove Two-Tone Memory Foam Slippers for Men, Breathable Waffle Texture Spring Summer House Shoes w/Indoor Outdoor Sole (11-12 D(M) US, Black/Lime)

HomeIdeas Women's Cashmere Cotton Knitted Anti-slip House Slippers, Winter Breathable Indoor Shoes
4. Yummy Treats – Whether it's a box of delicious chocolates, some gourmet chocolate covered pretzels or another decadent treat of your choosing, the recipient of this gift will be thrilled to indulge in a special occasion treat.
The 12 Coffees, Teas or Cocoas of Christmas (Your Choice) Gourmet Gift Box Set – Best Xmas Present For Friends, Family, Coworkers, or Teachers

Christmas Holiday Gift Basket, covered Oreo Sandwich Cookies , Elegant Gift box, Great Corporate Gift – Oh! Nuts (20 Count Covered Oreo Gift)

Serendipity Frozen Hot Chocolate Party Gift Box (as seen on "Oprah")
Whimsical Trio Chocolate Christmas Gift Basket
5. Gift Cards – Everyone loves gift cards. It's the opportunity to pick your own perfect gift! When you know someone well you can customize the gift card to suite their preferences. A gift card to a restaurant or to the movies is a relatively safe bet for any recipient. This gift can be given in a thoughtful card or can be dressed up a little with related items. I love the idea of the Redbox Movie Gift Basket below!

Movie Night Popcorn, Candy And Redbox Movie Gift Basket ~ Includes Movie Theater Butter Popcorn, Concession Stand Candy and a Gift Card for 2 Free Redbox Movie Rentals (Junior Mints)
6. Hand Made Items – A handmade item shows the recipient that you took the time to make something just for them. It can be anything. Crafty? Personalize a picture frame or knit a scarf. Bakers can bake a selection of their favorite goodies. The thought you put into the gift is the most important thing.
7. Amazon Prime Membership – Give the gift of convenience!  Amazon Prime allows for free 2 day shipping on most amazon.com orders. There are lots of other perks too. Members have access to tens of thousands of movies, shows, songs and audiobooks. In addition, members may also store photos and videos in Amazon Cloud Drive, get a Kindle e-book free each month and access lightning deals. In many parts of the US, Prime members can shop for groceries, gifts and alcohol and have them delivered for free in two hours (with some restrictions).
Related Post: The Ultimate Black Friday Shopping Guide
What is your favorite gift to give?
We are a participant in the Amazon Services LLC Associates Program, an affiliate advertising program designed to provide a means for us to earn fees by linking to Amazon.com and affiliated sites.