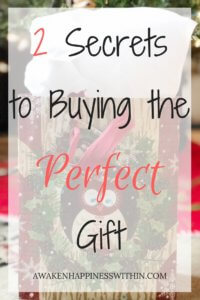 My husband Nick is an amazing gift giver. He puts a lot of thought and effort into the gifts he buys and receives many compliments about the gifts he gives to others. And he shared his secrets with me so that I can share them with you!
This post contains affiliate links. For more info, see my disclosures here.
Listen
The first step to buying the perfect gift is to listen.
Listen to those around you, especially close friends and family members that you buy gifts for every year. About three months before the gift giving occasion, start listening to the things that the person shows interest in. It is helpful when they will come out and say exactly what they want. More likely, someone will briefly mention a subject that they're 'in to' at the moment. This could be an author, subject, news event, coffee, tea, wine, and so on. Be prepared to listen and be ready to jot down the gift idea when it comes to you.
Sometimes learning something surprising about someone can turn into a gift idea. For example, several weeks before my birthday Nick and I were working on updating our vision board. We were looking through our pictures of our Hawaiian honeymoon and reminiscing. I mentioned that I really enjoyed listening to the traditional Hawaiian music when we were there. This was the first time Nick became aware of that fact. He bought me Somewhere Over the Rainbow: The Best of Israel Kamakawiwo'ole
 for my birthday. It included some of the traditional Hawaiian music as well as a few well known songs with a Hawaiian flair.
Being successful with this tip means writing down what you hear. I often come up with great ideas for gifts for people and when I try to shop later all I can remember is that I had a great idea. I have to write it down, either on a piece of paper or in a note taking app on my phone, to make sure I use the idea later.
Related Post: Extra Gifts That Come in Handy
Make It Unexpected
The second step is giving a gift that is out of the ordinary.
Unexpected gifts surprise and delight those receiving them. It is a special feeling to realize that someone has been paying attention to your thoughts and interests.
A gift reflecting someone's interests shows them that they are special and that you took the time to really think about them as an individual. There is a reason for the saying, "It's the thought that counts." Often times the thought that went into the gift is more meaningful than the gift itself (though the gift is probably wonderful too). You are giving a physical gift as well as the emotional gift of letting someone know how important they are to you. That combination makes almost any gift perfect. Those are the gifts that are always remembered.
Related Post: 7 Awesome Gifts for Anyone on Your List
What is your favorite gift giving tip?
We are a participant in the Amazon Services LLC Associates Program, an affiliate advertising program designed to provide a means for us to earn fees by linking to Amazon.com and affiliated sites.