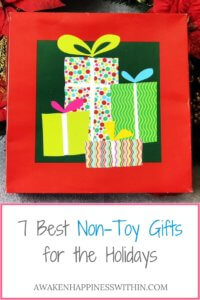 It seems like every parent I talk to has a similar problem: the sheer number of toys their kids have. After only a few weeks (or days!) many of these toys are put into a closet or toy box, seldom to be seen again. In addition, some of these toys spend weeks on the floor being ignored. I have put together a toy free gift giving guide for the holidays. The items in this gift guide are things kids love and also take up little space. Yay!
This post contains affiliate links. For more info, see my disclosures here .
Remember to use Ebates if you're shopping online to earn money when you shop! (Read How I Made $400+ From Shopping Online and You Can Too) for more information about Ebates.)
Costumes
Children have wonderful imaginations. They love pretending as they play. What better way to fuel their imaginations than to give them a costume or two? They can dress up as someone completely different! My children spend hours dressing up as different characters. Right after Halloween is a great time to get discounted costumes!
Classes
Children have so many interests. A month's worth of classes is a great way for them to explore different hobbies. Some ideas are art, pottery, martial arts, dance, ice skating, music or cooking classes.
Board Games
Board games are a fun way to teach children some life skills. When playing board games kids learn to follow the rules of the game, take turns and share materials. Older children can work together to figure out who is going first and in some games who will get a special job, like being the banker. Board games can also be fun for the whole family. Instituting a family game night is one way to enjoy the games together. Some of our family's favorite board games are below.
Related Post: 10 Great Family Games That Kids and Parents Enjoy
Tickets
Tickets are a sure way to excite children. Buy the special kids in your life tickets to a concert, the movies, a play or an amusement park. You are giving the gift of an experience that will become a cherished memory. You may even want to pick up an extra ticket for yourself and share in the fun!
Books
Books are a great way to promote the love of reading. Children love being read to even when they're older. Books by a favorite author or about a favorite character are always a good choice. Older children may appreciate books from a favorite series as well.
Another option is finding nonfiction books related to the child's interests. Colorful photos that help illustrate the content are always a big hit! Below are some good book choices for babies through elementary school age.
Memberships
Children's museums, science museums, aquariums and zoos often offer family memberships. These memberships frequently give families the chance to visit as often as they'd like for up to a year. In addition, many memberships come with additional perks. We have a membership to a local zoo that allows reciprocity with certain other zoos and museums throughout North America. This membership allows us to receive anywhere from 50% off admittance to free admittance depending on where we go. We also get discounts on food and gift shop purchases in some places.
Related Post: Two Secrets to Buying the Perfect Gift
Subscriptions
Just like their adult counterparts, kids can receive meal kit subscriptions. These are perfect for budding chefs. Also geared toward kids are monthly arts and crafts boxes, reading subscriptions, monthly boxes targeting scientific minds, and kits that teach children to build things.
Another subscription idea is a children's magazine subscription. You can tailor the magazine subscription to suit each kid's interests. In addition to the gift itself, many of these subscriptions are a chance for the child to get something in the mail each month. Kids love getting mail!
What is your favorite non-toy gift for kids?
We are a participant in the Amazon Services LLC Associates Program, an affiliate advertising program designed to provide a means for us to earn fees by linking to Amazon.com and affiliated sites.