Disney's FastPass+: Everything You Need to Know
Disney's FastPass+  is one of the best things about visiting Disney World! Each guest is able to pre-select up to three ride reservations in the same park per day. And unlike many other theme parks offering similar services, FastPass+ is included with the price of admission. Every person with a valid ticket is able to access FastPass+! And once you have used those three FastPasses, you are eligible for addtional free FastPasses in any of Disney's four theme parks (as long as you have a valid ticket)!
The first time my family went to WDW (in 2015) we were amazed by Disney's FastPass+ system. We loved that it enabled us to gain admittance pretty quickly to some of the attractions with long standby lines. This was huge for us as we were traveling with four children and the oldest was only six! Waiting in some of those long lines would have been very challenging. Using FastPass+ allowed us to experience the popular attractions with a very limited wait. Once we returned home we told anybody who would listen about our amazing vacation and the FastPasses that allowed us to accomplish much more than we thought possible.
**Join our free Disney Planning Facebook group!**
This post contains affiliate links. For more info, see my disclosures here.

How Does Disney's FastPass Work?
Once you have selected FastPasses (we will explore that below) simply go to the chosen theme park on the day you have FastPass+ reservations. There is a one hour window assigned to each FastPass+ reservation. During your window, approach the FastPass+ entrance to the attraction and place your MagicBand or admission card to the FastPass+ touchpoint. A cast member will be at the entrance to assist you if needed. Certain experiences may require you to scan your MagicBand or admission card a second time prior to beginning your FastPass+ experience!
Is planning your Disney World vacation a bit more than you anticipated? Would it be amazing to plan your trip with confidence, using a step by step plan? Disney World Vacation Planning Made Easy is certain to solve all your planning needs!
What Attractions Can I get FastPasses for?
FastPass+ is available for many of the most popular attractions. It is also available for entertainment and even for some Character Meet & Greets. You could also use your FastPass+ for guaranteed viewing of parades and fireworks.
FastPass+ is generally not needed for admittance to shows, though it is available for some shows. As long as you're in the standby line at least 30 minutes prior to the show starting, you should get in. That being said, if there is a show you really want to see, getting a FastPass+ will guarantee your admittance.
Related Post: Disney's Memory Maker
How Do I Select FastPasses?
There are two ways to make a FastPass+ selection. You can log on to the WDW website and go to the My Disney Experience section or you can use the MDE app on your mobile device. From there, select FastPass+ under the Plan and Manage title. Click on the blue Get Started button to begin.
Another option is to use the MDE app on your mobile device. You will have to tap the character at the bottom of the screen. Then tap Get FastPass+ under My Plans. There you will see a set of directions and then a blue Get Started button.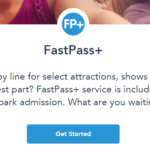 For either option, click on the blue Get Started button to begin. You will need to select those in your party for whom you would like to make FastPass+ reservations. Next, choose the park and the date. You will be able to choose a specific time of day or a more general time, such as morning, afternoon or evening for each FastPass+ reservation.
You may make one, two or three FastPasses per person, per day. Members of your party may have different FastPass+ selections. For example, on one of our first trips my husband Nick and our two older children had FastPasses for Seven Dwarfs Mine Train while I had FastPasses at the same time for myself and our younger children to go on The Many Adventures of Winnie the Pooh.
Hollywood Studios, Animal Kingdom and Epcot all have tiered FastPasses. This means that you are able to choose one FastPass+ attraction from Tier One per day and two from Tier Two. You also have the option of choosing all three of your FastPass+ attractions from Tier Two.
Having FastPass+ selections planned ahead of time makes the selection process much easier and faster. There may be times where an attraction is unavailable, so having a back up option for each park may make things easier.
Guests staying at a Disney Resort may begin selecting their FastPass+ reservations up to 60 days prior to checking in for the length of their stay (up to 14 days). Guests staying off property may begin the selection process 30 days in advance of their trip and must make their reservations daily for the length of their trip. For example, with a July 1 – July 4 stay, off site guests would make their FastPass+ selections for July 1 on January 2. They would be able to make selections for July 2 on January 3 and so on. FastPass+ selection begins at 7:00 AM Eastern Time each day
Get your free list of FastPass+ Attractions with ride height requirements and Disney World Planning Guide when you sign up for our weekly newsletter!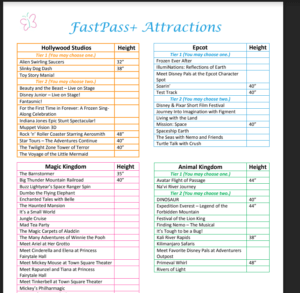 Important Information
You may make reservations for all members of your party, as long as each person in the party is in your Family & Friends list. To add others to your Family & Friends list, go into My Account and select the My Family & Friends tab. At the bottom of your list you will see an "Add a Guest" button that you can click on to add others to your list.
The ability to make FastPass+ reservations is based on the pre-requisite that your tickets or annual passes are linked to your Disney account. If tickets were bought as part of a package, the vacation package must be linked.
Once you have used your 3 initial FastPass+ selections you can use the My Disney Experience (MDE) app on your phone or one of the FastPass+ kiosks in the parks to make additional FastPass+ selections. These additional selections can be made in any of the theme parks, which is good news for those who like to park hop!
Annual Passholders are given the same access to FastPass+ selection as other guests: 60 days prior with a Disney Resort reservation and 30 days in advance without.
Related Post: Toy Story Land: Everything You Need to Know
What If I Want to Change My FastPasses?
Changing a FastPass+ is as simple as using the MDE page on your computer or the MDE app on your phone. Once you log in, you will be able to select the FastPass you would like to change or modify and do so right on the screen. If you are still at your Disney Resort, the Lobby Concierge or Club Level Concierge at your resort will be able to assist you. There are also FastPass+ kiosks in all four theme parks. There are always Cast Members available at the kiosks ready to assist!
The introduction of FastPass+ for everyone enhances the Disney experience by allowing you to pre-select faster admission to the attractions that are most important to you. Adding more FastPasses once you have used your first three each day makes Disney vacations even more enjoyable!
Shopping around for a Disney Resort? A DVC Rental gives you a Deluxe Resort for the price of a Moderate (or maybe even less)!
What attractions do you like to FastPass?