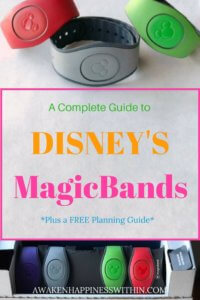 MagicBands are cool. Kids love them and parents find them very convenient. Before each trip we always plan, and sometimes even coordinate, our MagicBand colors as a family!
What is a MagicBand?
MagicBands are waterproof bracelets that use RF technology to store your specific information. You match them up to various touch points throughout your Disney World vacation, giving you access to the various plans you have made with My Disney Experience.
This post contains affiliate links. For more info, see my disclosures here.
What does it do?
MagicBands serve many purposes. They are worn throughout your trip and are used in the following ways:
Check in to Magical Express – Disney's Magical Express is the complimentary transportation service only available to Disney World resort guests. It must be booked in advance. Magical Express transports you and your luggage to and from Orlando International Airport. You will need to use your MagicBand upon checking in for Magical Express. (You can also use your Magical Express paperwork if your MagicBands are waiting for you at your resort).
Room Key – Tap the Mickey on the center of your MagicBand to the receiver next to your hotel room to unlock the door. Our kids love doing this so much that they will sometimes go into the room one at a time so that they each get a turn. Everyone is happy!
Park Ticket – Entrance to the theme parks and water parks is made more fun! Just tap your MagicBand to the touchpoint instead of a ticket, as long as your tickets are linked to your MagicBand through My Disney Experience. (If you purchased your vacation package through the Walt Disney World Travel Company they should already be linked for you.)  Bonus: You are also able to link special tickets, such as Mickey's Very Merry Christmas Party tickets, to your MagicBand.
Check in for FastPass+ Reservations – Tap your MagicBand on the receiver at the entrance to the attraction to redeem your FastPass+ reservation.
Redeem Dining Plan Credits – Use your MagicBand to utilize your Disney Dining Plan meal and snack credits. When it is time to pay, you will tap the center of your MagicBand to the receiver and enter your unique PIN. The number of credits you're using will be deducted from your available credits. (Find more information about the Disney Dining Plan here.)
Make Charges to your Resort Room – You are able to purchase items such as souvenirs and food at most locations throughout the parks and resorts. You will be asked to enter your PIN to validate the purchase. The charges will be added to your room total. You receive a receipt of purchases made at each location when you check out.
Connect Memory Maker and Photopass to your Account – After each set of photos taken by PhotoPass photographers, you will tap your MagicBand on the receiver.  This automatically links photos to your Memory Maker account. All photos taken on rides throughout Disney World also automatically link to your memory maker account.
It's Reusable – Your MagicBand is reusable, meaning you can link it to tickets bought for future trips.
If lost, it can be deactivated – If you lose your MagicBand while in Disney World, you can report it to Guest Relations or your hotel. The cast member will deactivate it for you. You are also able to deactivate it yourself through the My Disney Experience app.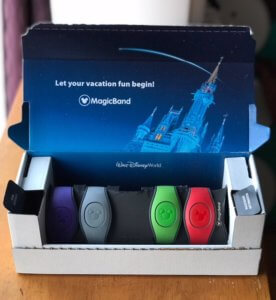 Is planning your Disney World vacation a bit more than you anticipated? Would it be amazing to plan your trip with confidence, using a step by step plan? Disney World Vacation Planning Made Easy is certain to solve all your planning needs!
How do I get one?
As of now, these are only available at Walt Disney World. WDW resort guests and Walt Disney World Annual Passholders receive complimentary MagicBands. They are shipped to your home if customized on MDE at least 11 days prior to arrival at WDW. Otherwise, you can pick them up at the front desk when checking in at your resort.
You are also able to purchase MagicBands online, through the Shop Disney Parks app, or at various retailers in Disney World.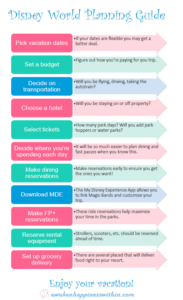 Get your FREE Disney World Planning Guide!
(Join our free Disney Planning Facebook group here!)
How do I customize it?
There are 8 different solid colors to chose from. You have to sign in to My Disney Experience to make your selection and to choose the name that will be written inside. While you are there, you are also able to link any tickets to your MagicBand. Keep in mind that your MagicBands may already be linked to your tickets if you purchased a vacation package through the Walt Disney Travel Company.
You are also able to purchase a MagicBand at Tomorrowland Light & Power Co. in Magic Kingdom. There you can chose different images and color combinations to create a personalized MagicBand.
MagicBandits are available for purchase. These are decorations that fit into the holes on the adjustable part of the MagicBand. Just beware that they may fall out and cause some tears with the little ones!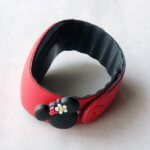 In addition, the center of the MagicBand 2 is able to be taken out and placed into MagicKeepers. These are items such as keychains, lanyards, etc. This option is ideal for people who would rather not wear a bracelet type device.
What are your thoughts on MagicBands?
Shop Related Products

We are a participant in the Amazon Services LLC Associates Program, an affiliate advertising program designed to provide a means for us to earn fees by linking to Amazon.com and affiliated sites.