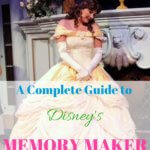 PhotoPass vs. Memory Maker
When you look at your vacation photos (or family photos in general), is there someone missing? Most often one parent is behind the camera taking all of the pictures. On your Disney vacation, there is a way to get everyone in all of the photos. It is called PhotoPass and it makes your Disney vacation a little bit easier.
**Join our free Disney Planning Facebook group!**
This post contains affiliate links. For more info, see my disclosures here.
What is PhotoPass?
PhotoPass is a service provided by Walt Disney World Resort in which Disney PhotoPass Photographers take pictures of you and everyone in your party in whatever combination you would like. The photographers are stationed throughout each of the parks and Disney Springs. There are also PhotoPass photographers at some restaurants to take pictures as you interact with characters before your meal.The photos taken by PhotoPass photographers can be linked to your My Disney Experience account with a PhotoPass card, MagicBand, park ticket, Memory Maker Card or annual pass.
You are also able to link any ride photos to your account. Anyone wearing a MagicBand will get the ride photos automatically linked to their account. Otherwise, stop at the attraction's photo preview wall as you exit and touch your park ticket, Memory Maker card or annual pass to the touch point next to the screen with your photo on it. This is something young kids love to do! We always end up with random photos linked to our account because our kids make a beeline for the touch points. I think they like to make it light up! They are unaware that they are linking other people's pictures to our account.
Once you access your pictures, you are able to edit them and create customized products. All PhotoPass photos expire 45 days from the date the photo was taken. For an additional fee of $29.95, you can order all of your photos on a disc. For $19.95, the expiration date can be extended to 60 days from the date the photo was taken. Once a photo expires, it is deleted from the PhotoPass system, so make sure to download all of your photos well in advance of that date.
Get your free Disney World Planning guide!
What is Memory Maker?
In addition to the PhotoPass service, WDW guests can purchase Memory Maker, which is PhotoPass taken up a notch. Everything that is available with PhotoPass is a part of the Memory Maker package. It also includes videos of portions of some attractions, such as Splash Mountain and Seven Dwarfs Mine Train. This is only available to guests wearing MagicBands. If you do not get a complimentary MagicBand as part of a vacation package and would like videos to be added to your Memory Maker account, MagicBands may be purchased for as little as $12.99. Once purchased, link them to your MDE account for full access to all of the features.
Want all of the benefits of Memory Maker for one day only? The is a special product just for you! You are able to purchase the one-day Memory Maker once you are in the parks and have at least one PhotoPass picture in your account. To do so, you need to choose a photo from the day you would like to make the purchase for and the app will give you the option to pay $69.99. This means you are able to download all PhotoPass pictures from that day only.
The best thing about Memory Maker is that you pay one flat rate and are able to download as many pictures as you choose to have taken.
Is Memory Maker worth it?
Every time we go to Disney World we pre-purchase Memory Maker. We always leave with hundreds of pictures. On our most recent trip we only stood in line for photos in front of park locations about five times. The rest of our photos came from lots of character meet and greets, restaurants and rides. I love knowing that the experiences will be captured when I am struggling  with autograph books and pens or a sleeping child. It takes one thing off my plate. We often have shots of the kids, then a family picture taken. This alone is worth it to me! What makes it even more valuable is the extra magic shots. Our kids love looking at these pictures! Sometimes we'll ask for extra magic shots and other times the photographers will surprise us with them. These photos capture wonderful memories. After all, isn't that what family vacations are all about?
Related Content: 11 Must Haves for Disney World
5 Ways to Save Money on Memory Maker
1. Individual photos are $16.95 – $19.95 each. If you're planning on purchasing multiple photos, Memory Maker may be a better investment. Purchasing it at least three days in advance will save you $30. It is $169 for those who purchase ahead of time versus $199 when purchased within three days of its first use. This gives you about a 15% discount. You are able to purchase Memory Maker after the trip as well. Remember that photos expire 45 days from the date the photo was taken so you are only able to purchase it within that time frame.
2. If you decide not to purchase Memory Maker, you still may be able to get a discount on photo downloads. When you log in to your Disney PhotoPass account, there is often a button that can be clicked to access special offers. These special offers are available for a limited time and do have restrictions. They may be worth it if you're only looking to purchase a few downloads.
3. Families traveling together may choose to share a Memory Maker package. To do so, the guest purchasing the package needs to add each person in the parties to their 'My Family & Friends List' on My Disney Experience. Everyone on that list is able to have all of their photos uploaded to the account. It is important to note that only the person who ordered the Memory Maker package can download the pictures. Once downloaded they can be shared.
4. If you are only staying at WDW for a day or two, you may want to consider purchasing the one-day Memory Maker. At $69.99 per day, this option is best for short stays. If you want photos for three days or more, purchasing the regular package is a better deal.
5. You may also ask a PhotoPass photographer to take a picture with your phone. As of this writing, they are willing to do that for guests. While this is free, the drawback is that they will take only one or two photos with your camera. We usually get five or six per photographer, and sometimes as many as ten. This works out really well because sometimes one is blurry or someone has their eyes closed. With multiple pictures to choose from, you will usually get that perfect shot. In addition, the photographers are only able to do extra magic shots when using their own cameras.
What are your thoughts on Memory Maker?
Shopping around for a Disney Resort? A DVC Rental gives you a Deluxe Resort for the price of a Moderate (or maybe even less)!
We are a participant in the Amazon Services LLC Associates Program, an affiliate advertising program designed to provide a means for us to earn fees by linking to Amazon.com and affiliated sites.