Running the Household versus Managing the Household
Everyone loves a clean house, right?  Keri and I have four kids.  So with six of us in a house, going six different ways, tidiness can get out of hand in a matter of a few hours.  Sometimes I feel like the maid, "I just cleaned up this place, can you keep it clean for 10 minutes…"  Can you relate?  Is there a solution that can actually help?  Well, as it turns out, there is: managing the household.
Well, what exactly does that mean?
Running the Household
Before we get into that, let's walk through a typical household example.  It's a weekday afternoon; everyone comes home and spreads their stuff around the house while mom (or very occasionally dad) gets supper ready for the family.  After supper, the kids go their own way as the adults clean up after the family.  Bedtime comes around and the kids go off for stories, teeth brushing and a restful night's sleep.  Again, the adults (usually and mostly mom) is left, on her own, cleaning up after a long day and placing everything back in its place.  Or, it is just too tiring at the end of the day and piles of stuff (you name it) are left haphazardly about the home.  Sound familiar?  Stressful?
What's the typical solution?: running the household.  There is more to do, so conventional thinking leads us to work harder.  That is what most of us end up doing.  There is more to get done, so we must either work longer or harder or both.  Well, that sucks!  It leaves us over tired, with little rest, often irritable and offers an inferior quality of life for everyone involved.  We've all been there; it's not the best experience.
So, what else can be done?
Managing the Household
This is where managing the household comes into play.  In short, managing the household is creating easy systems that everyone can follow and where each individual is accountable.  "Great, my kid is 2 and you're talking about accountability!?"  Yep.
When the system is simple enough, even a 2 year old can do it.  As an example, our entry way used to be the bane of my existence.  I hated it.  Overcrowded, littered with shoes, coats, etc., it encouraged significant stress.  Change was desperately needed for my sanity and for those around me.
Keri and I created a simple system: (1) set of hooks for coats, (1) set of hooks  for backpacks and a set of shoe bins.  Each location contains (6) individual storage areas.  Everyone has their own coat hook, backpack hook and shoe bin.  Everyone is responsible for storing their own items upon entering the house and everyone is informed as to how many belonging are allowed in each area: coats (2), backpacks (1), shoe bins (must close easily).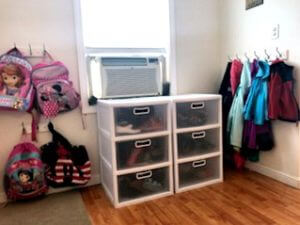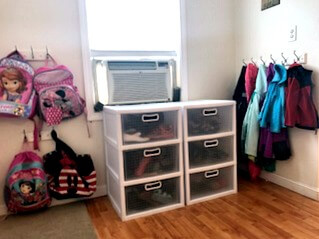 Related Post: 7 Steps to an Organized Pantry
The Key
Now, here is the key: make it fun!  "Coats away, shoes away, before you exit the entryway."  Sounds childish, right?  It's supposed to; kids love catchy songs and sayings.  When the youngest kids love it and the oldest kids either roll their eyes or say, "Dad, that's not funny." you know that you've just struck gold.
Also, bring the silliness.  Kids love humor and being silly.  Adding silliness to cleanliness takes the seriousness away from the task at hand and opens the opportunity for actual family time and coming together as a unit.  Who says chores must be tedious or mundane.  Keep it light.  Keep it entertaining.  Let the kids choose their favorite music (as long as they are behaving) and turn this household necessity into a time of enjoyment.
Cleaning
Who likes cleaning?  Nobody that I know.  Well, I am actually starting to, but that's an article for another day.  Anyway, we now clean as a family.  Keri and I also explain, repeatedly, why it is important for all of us to clean the house together.  "There are six of us living here.  Six of us help make the mess, so, should only 1 or 2 of us clean or should all six of us?"  The kids reluctantly reply, "no".  They know; and they are an equal part in the family.  So in every possible way, they are treated fairly and equally.
Now, again, make it fun.  We call ourselves 'team clean' and give the kids singular, manageable tasks and help them remain focused.  It is important to have a defined location for everything in advance and the kids are given age appropriate tasks.  Our youngest puts his trains where they belong while the older kids put away more complex toys and help with washing the table or vacuuming.
Rewards are also part of the fun.  We use simple rewards that the kids love.  It could be more time outside in the back yard, riding bikes, going to a nearby playground or having some dessert.  Everyone who actively participates receives the reward.  Those who don't (or throw a fit) miss out.  Keri and I remain calm about it (honestly – though maybe not so much several years ago :)) and it provides a good parenting opportunity to teach cause and effect.
Related Post: Easy Toy Organization System Kids Can Use
Big Finish
Cleaning can be a time of aggravation, frustration and even chaos.  Or it can be a time when the family comes together as a singular unit and supports each other.  The key to making this an enjoyable experience (as much as it can be) for all is managing the household rather than one person running the household.  A few subtle changes, such as a few simple systems, can make a world of difference.  Just remember to bring the fun and a bit of silliness; that is always a good idea with the kids.
What are your best ideas for managing the household?
Join our Facebook Group
If you found this article useful, please join our Facebook group: Awaken Happiness Within. Our Facebook group is a community where members can post, comment and share happiness and inspirational materials so that everyone can experience their best life, now.