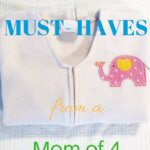 Starting a baby registry can be overwhelming! There are so many things to think about. What do you really need? And of these must-haves, which are the best? I remember being at a loss when trying to figure out everything the first time around. I was so overwhelmed, I registered for two things (a travel system and a swing) and was done. After surveying friends with new babies and researching which car seats were the safest, I was able to complete my registry after about six more attempts.
Now, after four kids and multiple brands of many items (including eight different strollers) I am here to help you get it right the first time. The items below are so amazing they belong at the top of any new parent's list. These items are brand specific because they are the exact items I used. Other alternatives may provide similar results.
This post contains affiliate links. For more info, see my disclosures here.
10 Baby Must-Haves
1. Fisher-Price Rock 'n Play Sleeper
– We bought this for our second child and immediately loved how versatile it was. Our baby sat in it next to the table when we ate dinner and relaxed in it while I folded laundry. We even took it instead of a Pack 'n Play if we were only spending one night out of the house. It folds up easily and is only a few inches wide when folded. We found it especially helpful for babies with reflux or a cold. The slight incline made sleeping easier for babies with either condition.
2. Ergobaby 3 Position Original Bundle Of Joy with Easy Snug Infant Insert
– I used this baby carrier with our third and fourth children. (I had a different one for the first two.) There are so many things I love about this Ergo. First, it is safe for baby's hips. Many other carriers cause hip strain on baby. The original Ergo also comes with a privacy hood that works well when the baby is sleeping, nursing or in the sun. In addition, there is a pocket with enough room for keys and a phone, so you are truly hands free, even when out and about. This is especially important for parents with other young children!
Funny story: I was out with my baby in the Ergo, holding a roll of paper towels and a four year old with one hand. My three year old was holding the other hand. I walked by a small group of women and heard one say, "Now there is a professional mother!".
The original baby carrier allows you to put your baby in three positions: facing your chest, on one hip (6 months+) or on your back (6 months +). The 360 carrier adds another position: on your chest, facing outward.
3. Britax B Agile & B Safe 35 Travel System
– This was our eighth (yes, you read that correctly, eighth) stroller. It is by far the easiest to use and maneuver. It folds quickly, it turns really well and the wheels are easy to snap on and off, making storage while travelling convenient. The canopy is larger than most and provides lots of shade. When our toddler wants a little time to himself, he grabs the canopy and pulls it down. It is so comfortable that when we're using strollers for our youngest two children, they both really want that one! I would also recommend getting the B Agile Infant Car Seat for young babies (comes as part of the travel system). It clicks right into the stroller and is very convenient when the baby has fallen asleep in the car and needs to be transferred to the stroller. You may need multiple car seat bases if the seat will be used in more than one car. 
4. Halo SleepSack Swaddle
(and Sleep Sack for older babies) – Either I was a little less than proficient at swaddling than most or my children were very active, because they never stayed swaddled through the night. Having potentially loose blankets near my newborn was a concern, so I quickly began using the Halo Sleep Sack Swaddle. I loved that it kept the baby warm at night and that the swaddle piece was held in place with velcro. Even if the baby was able to get their arms out of the swaddle, and they did, I knew that the material would remain secure. One of my babies even liked being swaddled with her arms out! I would wrap the swaddle around her mid section and secure it. Once they became too old for swaddling, I switched to the Halo Sleep Sack. Halo even has Sleep Sacks for toddlers that have holes for their feet!
5. Fisher-Price SpaceSaver High Chair
– With our first child, I bought a beautiful high chair that had a seat cover made of organic cotton. The thing was enormous and after a few months, very stained. No matter what stain remover I used or how often it was washed, the food stains remained on the seat cover. We transitioned her to a booster seat that was attached to a regular chair when she was able to sit up by herself. The Space Saver high chair provides the function of the large high chair with the convenience of the booster seat. It attaches directly to a regular kitchen chair and has the same features of a stand alone high chair too: a tray, three height adjustments and three incline positions.  
6. Angelcare Movement and Sound Monitor
– The Angel Care monitor gives new parents peace of mind. It has the features of a traditional monitor, plus a special sensor that goes under the mattress and tracks the baby's movements. If it detects no movements after 15 seconds, an alarm will sound. If there are no movements detected after an additional 5 seconds, the alarm sounds continuously until a movement is sensed or the parent goes into the room and turns the alarm off. I slept so much better knowing that I would be notified if our baby wasn't breathing. We did have a couple of false alarms when the baby would roll into the corner of the crib and away from the sensor pad. There are adjustable sensitivity settings to prevent too many false alarms.

We received a fabulous and unexpected bonus using this particular monitor when our kids were toddlers: they learned to stay in their beds when they transitioned from crib to toddler bed. Because toddler beds use a crib mattress, we continued to use the Angel Care monitor. The kids quickly learned that if they got out of bed when we left the room, the alarm would beep. Since they really dislike that, they stay in bed until they're asleep. If they need something, they call us. Our older children still stay in bed and call us if they need something, even though they no longer use the Angel Care monitor! We have many friends struggling with keeping their children in bed at night and because of this monitor we have escaped that particular parenting challenge!
7. Boppy Nursing Pillow and Positioner
– A good nursing pillow makes all the difference when feeding a newborn. It helps with the baby's positioning and allows the person feeding the baby to also be comfortable. I have used the Boppy and My Breast Friend nursing pillows when feeding my children. They both have their benefits. If I had to choose only one, I would choose the Boppy because of its versatility. Before my children were able to sit completely on their own, I would prop them up on it with a toy. I also used our Boppy behind the kids as they were learning to sit. That way it would cushion their fall when they fell backwards. It can be used for tummy time with an older baby as well. Because this is a soft pillow, children should only use it under the direct supervision of an adult. (Make sure you get the slipcover too!)
8. Fisher-Price Cradle Swing
– Remember the story above, when I registered for two things and got overwhelmed? One of the items was an adorable swing. I was so excited to put our baby in it. I bought extra toys for the toy bar and everything. And she hated it. She would last 10 minutes at most each time I put her in! Yet, she would swing happily in the swing my mom had. (My mom watched her while I was at work.) The difference? My mom had the Fisher Price Cradle Swing. The Cradle Swing was able to swing side to side in addition to swinging front to back. Our swing at home only swung front to back. We tried our swing at home again with our second baby. Again, it was a no go. For our third, I finally gave in and got the Fisher Price Cradle Swing. Our third and fourth loved it!
9. aidan + anais Muslin Swaddle Blankets
– These swaddle blankets are made of soft, breathable muslin and are larger than traditional swaddle blankets. It was much easier for me to swaddle my children in these blankets. They also have many other uses: burp cloth, tummy time blanket and nursing cover. These blankets can be used as a stroller cover or car seat cover, too, since the air can flow through them, unlike traditional blankets. I love using them as a blanket for toddlers in the car because they are breathable.
10. Medela Pump in Style Advanced Breast Pump
– I had to go back to work when each child was weeks old and really wanted to breastfeed exclusively. That required multiple pumpings each day. After speaking to lactation specialists in the hospital, I chose the Medela Pump in Style Breast Pump. It is a double electric pump that is very easy to use. It comes in a stylish bag that holds everything you need. I love that it comes with a cord that you can plug into an electrical outlet as well as a battery pack for when no outlet is available. Because of this pump, I was able to breastfeed each of my children until at least a year old while working out of the house full time.

 Keep Your Distance from These 
1. Wipe warmer – After hearing stories of dried out wipes and moms never using the wipe warmer they had, I didn't register for this one. If the wipes were really cold, I just held them in my hand for a few seconds to warm them. 
2. Diaper disposal system – We received this as a gift along with a three pack of refill liners. It was convenient to throw away the diapers in this when I changed the baby upstairs, but it definitely wasn't necessary. I spent most of my time downstairs and just threw the diapers in our (covered) trash can. The three pack of liner refills mentioned above lasted through all four kids since I rarely used our diaper pail!
3. Baby laundry detergent – The reason I am saying a special baby detergent is unnecessary is because our whole family uses a safe, natural detergent. Baby skin is delicate. I always made sure that the laundry detergent used for baby clothes was safe for sensitive skin and without dyes and perfumes.  Baby detergent can be expensive and sometimes contains the very chemicals we're trying to avoid.
Related Post: Time Saving Laundry Tips for Busy Moms
4. Rain cover for the stroller – I bought the combo pack that contains a rain cover for the stroller and one for the infant car seat. I kept it with the stroller so that it would be there when I needed it. I never opened it. When I saw it in the store it looked like such a good idea! I failed to realize that when it was raining I would not be taking a walk. If for some reason it began raining I just ran to a dry spot. I did not take the time to struggle with a rain cover first!
5. Sheet savers – This was another purchase that made so much sense in the store! I bought three of them. That way, when the baby spit up or had a leaky diaper, I would only be changing the sheet saver. In reality, by the time my children were out of the bassinet and in the crib, they rarely spit up. They did have the occasional diaper leaks at night though. However, with all of the movement in the crib, they never leaked on the sheet saver! I became nervous about them somehow loosening the sheet saver and it getting near their faces, so I got rid of them.   
Learn from my experience! The baby must-haves mentioned above made life so much easier, especially once there were multiple children in the mix!
What are your baby must haves?
We are a participant in the Amazon Services LLC Associates Program, an affiliate advertising program designed to provide a means for us to earn fees by linking to Amazon.com and affiliated sites.