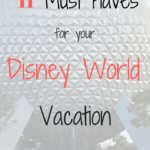 It's almost time! Your Disney World trip is right around the corner! After all of the time you spent planning, it's time to pack. A Disney vacation is unlike ordinary vacations, and with it come special packing needs.
This post contains affiliate links. For more info, see my disclosures here.
Must Haves for Disney World Vacations
A few weeks before every trip I like to start gathering all of my Disney essentials. I partly do this because I am getting so excited for my trip and I partly do this because I always seem to order a few last minute items. Here are our family's must haves for Disney World:
1. A sturdy, lightweight backpack: You will be bringing multiple items into the parks (sunscreen, sanitizer, phones, wallets, etc.). Having one place to put all of your essentials is convenient and keeps everything contained. (Do things ever seem to go missing from your pockets?)
This backpack is very similar to the backpack we always bring. We bought ours a few years ago and it is now out of stock. This is the same manufacturer and the closest I could find to ours. We love it because it has several compartments, making it easy to keep track of where things are. It is also small enough to fit by our feet on the rides.
2. A water filtering water bottle: Buying bottles of water can add up and become expensive quickly. And while quick serve restaurants will give you a free cup of water, the water in Disney World can be an assault on the taste buds. Plus, you have better things to stand in line for, like your favorite ride! We like to bring one Brita water filtering water bottle in addition to a water bottle for each person. We prefer insulated water bottles because they keep the water cool for hours. The younger kids (or maybe all of us) really like Disney themed water bottles.
We find a water fountain and fill up the Brita water bottle.  Then we use that to fill up additional water bottles for everyone Elsa (like the pun?). There are usually no lines at the fountains!
3. Moisture wicking socks: You are going to be spending a lot of time walking! These socks keep your feet dry. Comfort is key when you're on your feet all day. Plus keeping feet dry equals fewer blisters. I have been to Disney parks for 12+ hours a day, seven days in a row while wearing moisture wicking socks without getting a single blister!
4. S-Clips for attaching your backpack to your stroller: These clips help you attach your backpack to your stroller. That way you can give your back a rest while still being able to access everything you need. These clips also make it easy for you to grab the backpack when you park your stroller. We had to go to our local Home Depot to get the correct size for our stroller. You can also use them to attach your water bottles to your stroller or backpack, as long as your water bottles have some type of handle.
5. Soft cooler: A soft, flexible cooler keeps drinks and food cool throughout your day. The flexible material allows you to put it in the basket under your stroller.
Pro Tip: Fill Ziploc bags with ice before leaving the hotel. The Ziploc bags contain the melting ice so you have less water everywhere.
6. Autograph book and sharpies: We like to bring our autograph books with us so that we have them when they're needed. We were without an autograph book on our first trip and had to run to the gift shop to pick one up. We also bring our own Sharpies. Some characters have a lot of difficulty signing autographs with skinnier pens; plus their signatures show up really well with sharpies.
7. Bit Belts: These bit belts help MagicBands stay on little ones. We have had a few near losses when our kids' MagicBands fell off. Luckily, someone has always seen it happen and given it back to the rightful owner. Others are not that lucky. We have personally found at least three MagicBands and have turned them in to Cast Members. Bit belts keep everything in place and give you a bit of peace of mind.
8. Frogg Toggs Chilly Pad: A great way to beat the Florida heat is with this cooling towel. It's made from a special material that can keep you up to 30 degrees cooler than the actual temperature. You wet it to activate, and it stays cool to the touch!
9. 4 port USB wall charger: Plug in all your devices at the end of each day. This wall charger is small and can be used at home too! We use ours in the kitchen as a convenient place to plug everything in while we're downstairs.
10. Portable phone charger: You will be using your phone to take pictures, make calls and text others. You may also be using it for the My Disney Experience app. This allows you to check wait times, add Fast Passes, add dining reservations, take advantage of mobile ordering and more. Use this lipstick sized portable charger to make sure your phone is charged.
11. Keepons: For those of you wearing glasses, you may want to consider packing Keepons. They prevent eyeglasses from slipping while you're on the rides. Nick was able to use them for Splash Mountain and all of the roller coasters in Magic Kingdom as well as Test Track in Epcot. He recommends taking your glasses off for Rockin' Roller Coaster (it goes upside down). Remember, Keepons are not a guarantee. You glasses will be a lot sturdier with them, though they're not a guarantee. Use your best judgement.
Want a deep discount on a Deluxe Resort? Try a DVC Rental!
What are your Disney must haves?
We are a participant in the Amazon Services LLC Associates Program, an affiliate advertising program designed to provide a means for us to earn fees by linking to Amazon.com and affiliated sites.