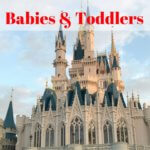 Disney With Toddlers and Babies is so Much Fun!
Experiencing Disney with toddlers is awesome! If you're on the fence about whether to bring your young children to Disney while they're still little, let me ease your mind. Our first trip to Disney World was when our four children were 6, 4, 2, and six months old. People said we were crazy. They figured the kids would have trouble remembering the trip and that it would be very difficult for us. Luckily, it was one of the best decisions we have made for our family! Our kids had a great time. In fact, our two year old was grabbing our hands and making us clap with her! The excitement on the faces of the three older kids was well worth it and gave us memories to last a lifetime.
This post contains affiliate links. For more info, see my disclosures here.
Savings Alert: Children under three are free. Consider bringing them shortly before their third birthday. They will definitely be old enough to enjoy Disney and your wallet will thank you! Children under three are also able to have their own plate at buffets or can share food from your plate. Children's meals and drinks are available for purchase as well.
Related Post: Is the Disney Dining Plan Worth It?
Preparing for the trip
Congratulations! You have decided to make the trip to Disney World. Planning ahead can maximize your vacation enjoyment. Use these tips to get your Disney vacation started on the right foot.
1. Catch up on some favorite Disney movies. We always watch at least one Disney movie each week for the 6 -8 weeks leading up to our trip. We tend to watch movies that are related to the attractions our children will experience so they will make the Disney connection. The list of movies below has related attractions and in which theme park they are found.
AFFILIATE LINKS TO MOVIES ON AMAZON?
2. Set expectations. We have found that the more we prepare our children for any adventure, the better they handle it. The same is true for Disney. We enjoy watching the planning videos ahead of time. This serves two purposes: it gives the kids a glimpse of what they'll be doing and it lets us know if there is something they are really going to want to do on our trip. For example, one of our children saw the Dumbo the Flying Elephant ride on the video. She talked about it so much that we went there very early on our first day at Magic Kingdom. We were able to ride twice while there was a relatively short wait. Because we knew she really wanted to ride Dumbo, we were able to cross that off our list of 'must dos' early in the day. (Thank you planning video!)
3. Make Advance Dining Reservations. The window for dining reservations opens 180 days in advance and many table service restaurants at Disney do fill up months ahead of time. If there is a character meal (or other dining experience) that you have your eye on, book it as soon as possible. Many babies and toddlers love the character interaction at these meals. They usually meet between three and five characters, depending on the restaurant. You are able to cancel reservations up to 24 – 48 hours before your scheduled reservation time without a penalty, depending on the restaurant. Most restaurants are also included in the Disney Dining Plan.
4. Factor in the location of your resort when making plans. Many parents of toddlers and babies plan a break mid day where they go back to their resort. When considering this option, remember to factor in the time it will take to get to and from your resort to make sure it's worth it for your family. If this is high on your list of priorities, you may want to consider staying at the Contemporary Resort, Polynesian Resort, or Grand Floridian Resort. These three Deluxe Resorts are on the monorail loop. This means they will be closer and easier to get to. (Looking for a Deluxe Resort for a fraction of the price? Try renting DVC.) All that being said, it is very possible to have a great day at Disney without taking a break in your room. We always stay in the parks while our children nap in the stroller or take a break (tips below).
5. Research Fast Pass+ rides. You are able to make rider reservations for up three rides per day as long as you have valid theme park admission for that day. Disney resort guests are able to make their reservations up to 60 days ahead of time, while off property guests may do so up to 30 days ahead of time. There are plenty of rides without height requirements that babies and toddlers love to ride. If you want to book Fast Passes for rides that the little ones are unable to enjoy, rider switch is available.
Rider Switch is Disney's way of making sure both parents are able to enjoy an attraction without making both stand in the standby line. Your party goes to the Cast Member outside the ride and asks for a Rider Switch pass. A ticket will be given to one adult who will be able to ride the attraction along with anyone else in the party who so desires. Upon exiting the ride, the first person then gives the pass to the second adult. Adult two gives the pass to the Cast Member and is allowed to use the Fast Pass line. One other person in the party may join the second adult on the ride. Our older kids loved doing this when our younger ones were babies and toddlers. They were able to ride some rides multiple times! Remember to plan ahead and set expectations when travelling with several kids who may want another ride. We had our older two kids take turns!
Related Post: 11 Must Haves for Disney World
During the Trip
1. Start the day early. Kids are usually their best in the morning before they get tired. They are excited and best suited to enjoy the experiences. This makes it easier and more enjoyable for you too!
2. Be flexible. Some advanced planning can provide a basic structure for your day. It is important to have some flexibility built in too. Your child may see something that they 'have' to do. They may need an unexpected break. Things pop up. It's much less stressful when daily plans have a little wiggle room.
3. Have a break/nap plan. Will your baby sleep in the baby carrier? The stroller? Only in a pack 'n play? Will your toddler need a nap or just some down time? Having a plan for when your kids become tired and cranky makes everyone's day a little easier. You know your child best. We have found that strategically planned breaks are good for everyone involved, including the adults!
4. Bring snacks from home. These are snacks that you know your child enjoys. Kids, especially tired ones, find comfort in the familiar. This includes food. When you bring snacks with you they are accessible at any time when you are in the park. If your little one is hungry in line, you have something ready to feed them. Snacks from home will also save you a lot of money!
**Join our free Disney Planning Facebook group!**
5. Use a stroller. A stroller is a good idea for most babies and toddlers. Whether you bring your own or rent one, your child will have a place to relax and maybe even have some alone time. Our youngest likes to pull down the canopy of the stroller when he needs a break. Disney is huge and there is a lot of walking each day! As a bonus, you can use the stroller to store your backpack or diaper bag. Ample stroller parking is available throughout the parks.
6. Use the Baby Care centers. Each park has Baby Care Centers that provide a place to feed and change little ones. They have a kitchen equipped with a microwave, oven and sink. There are high chairs, changing tables, and private nursing rooms available. The main room has a TV and seating areas. You are also able to purchase baby supplies such as formula, food, diapers, wipes and sunscreen.
7. Download and use the My Disney Experience app. The MDE app features wait times, attractions, characters, dining, restroom locations, entertainment, PhotoPass locations and more. These can be filtered by park. You are also able to log in to your account and get Fast Passes, make dining reservations and order food. It is a very valuable tool that you will reference throughout your time in the parks.
Get your free AHW Disney World Planning guide!
With a little planning ahead, Disney with toddlers and babies is magical!
What are your thoughts on Disney with toddlers and babies?
We are a participant in the Amazon Services LLC Associates Program, an affiliate advertising program designed to provide a means for us to earn fees by linking to Amazon.com and affiliated sites.