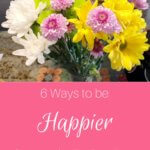 As a general rule I write about happiness. As a general rule I am happy. Because of this, it is especially important that I let you know that I have bad moments too. I also have some tips for getting back on the happiness track.
A Frustrating Afternoon or Pushing Away Negative Emotions
A few days ago, I was feeling a little frustrated. Something I have been working really hard on was not going as well as I had expected. (With a few minor changes it is going better than expected now!) The kids were arguing. Trying to get them all in the car so that we would be on time for an appointment was a little (perhaps more than a little) challenging.
While we normally keep the TV off on weeknights, this particular night we watched the Disney movie Inside Out. I realized something about myself as I watched how each of the emotions contributed to Riley's overall well being. It is something I have always known, yet somehow had forgotten. Inside Out helped me remember that experiencing other, less joyful moments make the rest of life that much sweeter. It is because I am able to feel a range of emotions that I am able to really appreciate, and often choose, happiness.
I had been pushing away my negative feelings in an effort to find my way back to happiness. I thought that if I ignored them, they would go away. When I allowed myself a few minutes to accept and really feel the frustration that had built up earlier in the day, I was able to acknowledge that feeling and let it go. And the funny thing is, as soon as I did so, happiness and gratitude returned.
Related Post: Be Happier This Month: A 30 Day Gratitude Challenge
What I Learned
Often I feel like I should only write about happiness. That is the whole point of this website: to inspire self love and help people live their best lives, now. However, I realized that acknowledging the range of emotions we go through as human beings is important too. Everyone experiences, and may even struggle with, negative emotions from time to time.
The key is how we react to them and what we choose to do about it. I tried to push through some negative emotions. It didn't work. I only became more frustrated. Once I chose to accept my feelings, I was easily able to move on to happiness again. I know this stuff. I know how important it is to really feel emotions in order to let them go and return to my natural state of happiness. Yet for some reason I struggled with that.
So why am I sharing this with you? Sometimes negative emotions like anger, sadness, frustration, fear, etc. can make us feel alone. This is a reminder that others go through the same thing. And more importantly, I hope to share some tools that help get you back to happiness fast.
6 Ways to Be Happier
1. Really experience whatever emotion you are feeling. Feelings persist as long as they are being pushed away.
2. Count your blessings. I know, it's been a hard day. That is exactly why it's a great idea to look around and show gratitude for all that is going well in your life. Whether it is a warm meal or a comfortable pair of shoes, find something (or several somethings) that you are truly grateful to have in your life. This immediately puts you into a more positive mindset. It also helps you attract more things to be grateful for into your life.
Related Post: You're as Happy as You Think You Are
3. Laugh. You can catch up with a friend who always makes you laugh or read some jokes. I really like to watch funny TV shows or movies when I need a good laugh. (Read more about the benefits of laughter here.)
4. Do something for you. This is a great time to get busy with a hobby you enjoy. Read a good book, go outside and garden, try that new recipe you have been wanting to make. Doing something you love often raises your spirits.
Bonus: Do it with someone you love. I recently got together with my mom and we worked on sewing a new tree skirt for the Christmas tree while having a lot of fun.
5. Pray, meditate, walk in nature. Sometimes a little spirituality goes a long way. Feeling connected to something greater than yourself can be very uplifting.
6. Spend time with loved ones. There is something about being around the people you love. Just being in their presence can have a very calming and relaxing effect.
Tip: Pick something relaxing in advance. Just let go and be.
What are your tips for being happier?