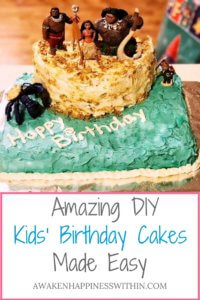 The Cake Dilemma
As a new mom working full time, planning a child's birthday party was a little overwhelming. I was looking for anything that would make it easier.
Picking up a cake at the local supermarket was very convenient. The added bonus of being able to find almost any character or theme just added to the ease of planning that aspect of a birthday party. So that's what I did.
It was when our third daughter was born and I began researching food that I realized store bought cakes weren't all that good for you. I'm talking beyond the fact that cake usually has lots of sugar. There were a bunch of additives that I had never realized were in there.
I began thinking about the cakes I had when I was a kid. Growing up, my mom always made our birthday cakes. It was so much fun watching her create something beautiful out of cake and frosting.
I decided I would do the same for my kids. My cake decorating talents pale in comparison to my mother's. I needed a quick and easy way to make amazing cakes that my children would love.
This post contains affiliate links. For more info, see my disclosures here .
A Simple Solution – Easy DIY Cakes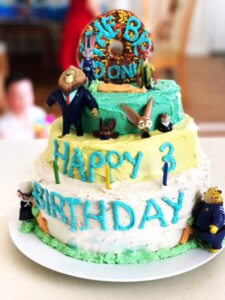 I realized that if I used a carefully selected boxed cake mix I could steer clear of many of the ingredients I wanted to avoid while still being able to make a delicious and easy DIY cake.
Next, I had to figure out how to decorate it. Knowing my strengths, I understood that I could easily make and color frosting (Leave a comment below if you need frosting assistance).
I then had to figure out a theme. I began looking through photos of some of the store bought cakes we'd had over the years. I realized that many of them used some type of toy as part of the decoration.
I knew I could do that! Our family loves Disney and movie nights. So it is no surprise that my children often choose a party theme based on Disney characters.
I realized I could buy a set of toys like Disney Cars 3 Deluxe Figure Play Set 461073193097
  that is related to whatever theme they choose. All I have to do is think of a way to use frosting to set the scene.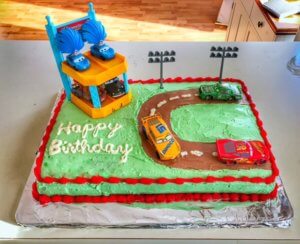 Once that is done, I just place the toys around the scene and write Happy Birthday on the cake!
Want more detail on a specific cake?
Leave a comment below and I will get back to you!
What are your tips for creating easy DIY cakes? 
We are a participant in the Amazon Services LLC Associates Program, an affiliate advertising program designed to provide a means for us to earn fees by linking to Amazon.com and affiliated sites.