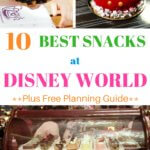 The food at Disney World is one of the things I love about vacationing there. With so many options, everyone is guaranteed to find something they like (or if you're like me, many somethings). With choices ranging from healthy to the "I only eat this in Disney", it can be hard to narrow down the best snacks at Disney World. 
For those participating in Disney's Dining Plan, it is easy to figure out what snacks are included. Snacks included in the plan have the dining plan logo next to them on the menu or display. It's a purple and white square with the letters Ddp and a picture of a soft drink.
This post contains affiliate links. For more info, see my disclosures here.
(Need help planning your Disney trip? Join our Disney Planning Facebook group!)
Best Disney World Snacks
1. Dole Whip – This iconic Disney snack is a must for many! The pineapple soft serve is so refreshing, especially on hot days. I prefer the Pineapple Float. It is a Dole Whip with pineapple juice. Recently I got a Pineapple Float with vanilla ice cream instead of pineapple and it was delicious too! Find these treats at Aloha Isle in Adventureland at Magic Kingdom.
2. Anything Mickey Shaped – I know, this covers multiple snack options. Mickey ice cream (several varieties), Mickey pretzel, Mickey chocolate chip cookie, Mickey rice crispy treats. The list goes on and on. It just feels more magical to be eating something Mickey shaped when in Disney! These sweet and savory snacks are found throughout Disney.
3. Anna's Birthday Cupcake – Anna's Birthday Cupcake is a moist and delicious vanilla cake with a marshmallow center. It is topped with a sparkly blue buttercream frosting. Pretty and mouth watering? Yes, please! Find it at Kringla Bakeri og Kafe.
Click here for your Free Disney Planning Guide from awakenhappinesswithin.com!
4. Popcorn- The popcorn is so delicious. It is one of the few savory snacks to make the list. Popcorn buckets can be purchased and are refillable for a small cost. This is a tasty and cost effective way to snack throughout your stay and is available in all four theme parks. This is a guaranteed kid favorite.
5. Cinnamon Roll  – This is technically a snack, though it is also a great breakfast option. This warm, gooey cinnamon roll covered is with sweet icing. It's big enough to share and is found at Gaston's Tavern. Try one with LeFou's Brew, a tasty compliment to the cinnamon roll. It is a frozen apple juice with a hint of toasted marshmallow and topped with a mango-passionfruit foam and can also be purchased at Gaston's Tavern..

6. Donuts – The donuts at Joffrey's are delicious and huge! When my then 6 year old was eating one it was about the size of her face! She enjoyed it so much that a few people walking by first commented on the size, then got in line for their own! Joffrey's has multiple locations throughout Disney in the parks, water parks, and Disney Springs.
7. Ice cream cookie sandwiches – These are made to order using freshly baked chocolate chip cookies. Choose which ice cream flavor you'd like to accompany your cookies and enjoy a delectable dessert! These can be found at the Plaza Ice Cream Parlor on Main Street in Magic Kingdom or at Hollywood Scoops in Hollywood Studios.
8. Selections from food carts – The World Showcase in Epcot has so many food carts in the different countries. The international cuisine is amazing! Sampling snacks from various carts is a fun and delicious way to spend an afternoon.
Related Post: 11 Must Haves for Disney World
9. Strawberry Banana Smoothie – The Main Street Bakery in Magic Kingdom is home to a Starbucks. They make a delicious smoothie with fresh strawberries and bananas. This is a treat that is both fun and healthy! It can also be found at other Starbucks locations in the parks.
10. Strawberry Lemonade Frozen Bar- Looking for something refreshing and not overwhemingly sweet? This bar does the trick. The lemonade and strawberry flavors are perfect for a light treat. Find them throughout Disney World in the parks and resorts.
With so many options to enjoy, choosing the best snacks at Disney World helps make your vacation even more magical!
If you found this article helpful, you may want to sign up for our Disney course. It contains all of the necessary information to make your Disney World dreams come true! Learn more about it here. 
What is your favorite Disney snack and why?
(Thinking of staying in a Deluxe Resort? You may want to rent DVC points instead. You could stay in a Deluxe Resort for the price of a Moderate!)