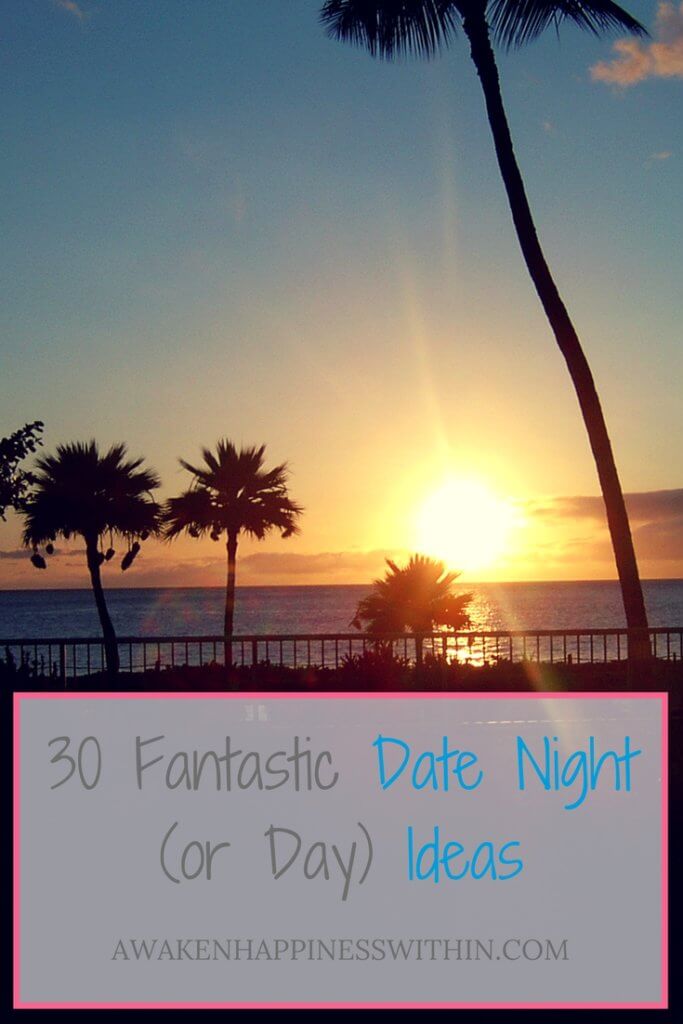 Sometimes it's hard to think of something to do on a date night (read about why they're so important here). We get into ruts and do the same one or two things over and over. Wouldn't it be helpful if there was a list we could print out and reference when we're trying to think of something new to do but don't have a lot of time? Well, here is a list of 30  easy ideas that take no time (or very little time) to plan.
30 Fantastic Date Ideas
Dinner and a movie – We had to include it! To mix it up try a drive in and bring take out or go to a movie theater set up as a restaurant with tables and waitstaff.

Get takeout and eat in a park

Go for a walk together

Watch the sunrise or sunset together

Go to a museum

Play a board game or a card game (Nick and I enjoy playing cribbage.)

Go to the theater

Take a class together

Go to the zoo

Visit an amusement park

Go swimming

Take a walk on the beach

Have a picnic

Go on a winery or brewery tour

Go to a sporting event (if you both like the sport)

Read the same book and set a time to discuss it. You don't have to wait to finish it to begin discussions. Meet after a certain number of chapters. Then decide on the next stopping point at the end of the discussion.

Shop for something special together, like a gift for someone important to the two of you or a new item for the house. You could even make a game of it: meet back in 15 minutes with the best thing you could find for under $5.

Recreate an early date or a date with significant meaning.

Go to a favorite place from each other's childhood  – this may take more than one date

Get ice cream

Look at the stars – do you know any constellations?

Go for a hike

Take turns making a special dinner for each other or have a cooking competition making the same dish

Pick your own seasonal fruit (apples, pumpkins, blueberries, etc.)

Explore a near city together

Play mini golf

Go ice skating

Have breakfast together

Volunteer together

Pray or meditate together
The importance of date night is that you're spending time together. Make sure to focus on each other. You should each feel appreciated and valued in your relationship, and date night is the perfect time to show that you care.
Related Post: Is Date Night Really Important?
What's your favorite date idea?