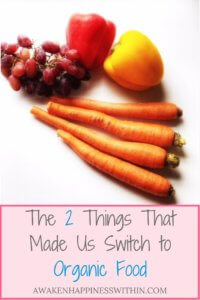 For a long time, I misunderstood the term organic food. I was happy buying conventional food. (Read the related post Is Buying Organic Food Really Worth It?)
I would opt for the organic version of a food when the prices were similar because I figured organic was somehow better. Otherwise I would go with the conventional food I normally purchased. Two things made me change my thinking and choose organic food.
I Accidentally Bought Organic Strawberries
One summer afternoon in 2011 my husband Nick stayed home with our two girls while I went to the grocery store to do our weekly food shopping. In the summer, produce is abundant and often on sale. On that particular day strawberries were one of the sale items. I could get 2 packages for $4.00. Of course there was a huge display of strawberries. I took two packages and continued on with my shopping.
I only thought about the strawberries again when the cashier began ringing up my food. One package of strawberries rang up at $2.00 and the other rang up at $4.99!?! I realized that I had accidentally picked up a package of organic strawberries. Feeling too embarrassed to say anything,  I just figured I would be more careful moving forward since the one organic package cost more than two packages of conventional strawberries!
Have you ever seen strawberries that were the size of your toddler's hand? The ones that are white inside when you cut them up, because a strawberry of that size is too big for a toddler? Those were normal strawberries to me. I thought the juicy, red strawberries from my childhood garden were a child's romanticized version of strawberries.
And then I ate one of the organic strawberries.
I was instantly transported back to the summers of my childhood, when I would pick strawberries straight from our garden and eat them. The last time I tasted a strawberry with that much flavor was in childhood. I brought one over to Nick, and told him about my mistake. Nick, the kids, and I ate that entire package right then and there.
They were more than double the price of regular strawberries and they were worth it! Unfortunately, we did have a budget to meet. We really enjoyed that accidental treat and I went back to buying conventional foods.
Complications With The Pregnancy & Birth of Our Third Child
Nick and I were blessed with our third child at the beginning of 2013. Our other two children were the results of completely normal pregnancies and deliveries. There were no known risk factors with this pregnancy so we expected another routine pregnancy and delivery, until one day in the fall of 2012.
At a routine OB/GYN appointment I was talking with the doctor when I got a sharp pain. I had to stop talking because it hurt so much. It had been happening off and on throughout the day. I chalked it up to Braxton Hicks contractions as I had just hit the 30 week mark. The doctor looked at me funny and began asking questions. I told her I'd been getting those Braxton Hicks contractions on and off all day. She informed me that those were not Braxton Hicks, but real contractions.
She sent me home and told me if I experienced four in an hour to call back. Within two hours of arriving home I did indeed experience four in less than in hour. I was sent to the hospital.
To make a long story short, I was in labor. Luckily, medication stopped the labor.  I was released from the hospital with a modified work schedule and a long list of rules. Thankfully I was able to hit our goal of staying pregnant until at least 36 weeks.
Fast forward a couple of weeks. Something just didn't feel right. The baby didn't seem to be moving as much. I had a gut feeling that something was wrong. Luckily, I had an appointment that morning. I tried to explain how I was feeling to the doctor. For some reason I had trouble communicating effectively.
I left and prayed (a LOT). That afternoon I was back at the hospital, in labor. This labor was extremely fast (1 hour and 5 minutes). During delivery the umbilical cord broke in two. It was frail. The placenta was very small. The baby was only 5 lbs., 8 oz. She wasn't even on the charts for a full term baby!
Lots of Questions
I had a lot of questions for the doctors about what had happened. Why did I go into pre-term labor? Why did the cord break? Why was the placenta so small? Why was the baby so small? Was she OK?
I asked every medical professional that came into the hospital room at least some of these questions. Nobody could give me definitive answers. The most important thing was that she was completely healthy, just small!
At my 6 week follow up appointment, I asked my OB/GYN (who wasn't present for delivery) all of the above questions and more. (I brought a small notebook with about 3 pages of questions.) She told me there was no known reason for any of the abnormal things that had happened. Sometimes those things just happen, she explained.
Well, I'm the kind of person that needs answers. So I went home and began researching. I was so surprised to learn that the answer to every one of my questions could be tied back to food, specifically genetically modified food.
A Family Decision
As I learned more, I began to share the results of my research with Nick. I was barraging him with information several times a week! I am an all or nothing type of person, so of course I wanted to switch to only organic food immediately.
Nick is more practical. We had several discussions about switching to an organic diet and making it fit within our budget. We decided on a route that felt comfortable to both of us: switch over to organic food slowly over time. Learn more about how we did so in Go Organic in Five Easy Steps.
What's your stance on organic food? How did you reach that decision?