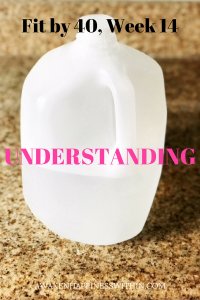 Fit by 40, Week 14 – Understanding
We went on a four day vacation last week and had a great time. While preparing for our time away I understood just how far I have come. Usually when going on vacation I like to do as little work as possible, including daily chores such as laundry, cleaning and food preparation. This translates into a desire to eat at as many restaurants as possible!
Because of the Fit by 40 challenge, something has changed for me. I now understand how important eating healthier food is every day. I was much more willing to prepare meals on this vacation. While we still ate at restaurants on our trip, I made healthier food selections. I felt so much better the next day!
After the lack of exercise that happened in Week 13, I also understand the importance of daily exercise. Luckily, we went to some theme parks and spent a good deal of time walking each day, so exercise was incorporated into our vacation.  
What Went Well, Week 14:
Eating Sweets:

For the second week in a row, eating sweets is in the 'what went well' category! We were on vacation and for us that means ice cream! I did have ice cream three days during vacation. This year, I had smaller ice cream portions than normal. I also chose to forgo many of the other sweets I typically eat on vacation, including fudge, in order to stick to my Fit by 40 goals. 
Mindful Eating:

Usually I like to bring lots of yummy (unhealthy) treats on vacation. While I did pack some chips to go along with our sandwiches and fruit in the theme parks, the cookies and other sugary treats were absent. When my husband Nick was looking for all of the other typical vacation goodies I reminded him that we have a new lifestyle now. Thankfully he is very supportive and was fine with that explanation. 
We rarely eat at restaurants, so typically I order whatever I want when we go out to eat. On this trip, I made some healthier choices at restaurants. For example, instead of the fried chicken and french fries I typically order, I had a salad with grilled chicken. Knowing that I would have ice cream for dessert motivated me to keep the rest of my meal healthy.
Getting More Sleep:

Walking around theme parks for 8+ hours a day can really tire you out! I was in bed by my target bedtime each night of vacation. Even though we were pretty active during the day (or maybe because of it), I was able to enjoy a healthy amount of sleep each night.
Drinking Water: Walking around a theme park all day can make you thirsty! We each brought a water bottle to keep hydrated. Additional hydration was provided by club sodas, kept cool in the cooler. This is our normal theme park routine. We always refill our water bottles using water fountains at the park. Normally, I don't drink much of this water. It is often a little less than tasty. I decided to try something new this trip: we kept a gallon of water under the stroller to provide water bottle refills. It worked so well! We all drank more water and were very well hydrated! I hope to remember to do this next vacation!
Area That Needs Work, Week 10:
Meditation:

Morning meditation is my favorite! I really enjoy starting the day by meditating. On vacation, I thought about meditating each morning upon waking and then thought of everything else I needed to do before walking out the door. I figured I would get everything done and then meditate if there was time. You can probably guess the outcome: there was never extra time! I was really tired at night and only attempted night time meditation once. I then fell asleep within minutes. On my next vacation I need to figure out how to fit meditation in to my day.
Our vacation last week has allowed me the opportunity to reflect and come away with some new understandings this week. I understand that my Fit by 40 journey is truly a lifestyle change. While I always knew this at some level, I am now realizing it to mean that I am continually making choices that support or detract from this lifestyle. I understand that making healthier choices on vacation translates to making healthier choices in everyday life. I also understand that regularly exercising and eating well help me feel my best. Continuing to make those choices while on vacation make the vacation experience even better!
What understandings have you come to as a result of the Fit by 40 challenge?