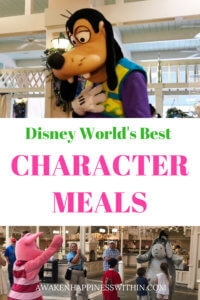 Are you looking to meet multiple characters and dreading waiting in line? Character meals offer a solution. Depending on which meal you book, you will meet three to five characters in addition to getting a delicious meal. An added bonus is that you also get chance to sit down and take a break in an air conditioned restaurant. Character meals in Disney World are a great use of a table service credits on the dining plan since they can be on the expensive side. Our family thoroughly enjoys partaking in several character meals each trip. Below are our picks for the top five character meals in Disney World.  
Are you spending thousands of dollars on a dream Disney vacation only to feel lost when it comes to planning? Let our course, Disney World Vacation Planning Made Easy, give you step by step guidance so that you have the most magical vacation ever!
Crystal Palace
Enjoy the Friendship Day celebration with Winnie the Pooh, Tigger, Piglet and Eeyore. Breakfast, lunch and dinner are all served buffet style with a diverse selection that even choosy eaters can find something delicious to eat. While you're dining, characters make their way around the restaurant. In our experience, the characters always take their time. There is also a parade for children at certain points during the meal. An announcement is made and any interested children get up and join the parade around the restaurant. Crystal Palace is located in Magic Kingdom, meaning that you must have valid theme park admission in order to enjoy the experience.
Cape May Cafe (Breakfast Only)
The Beach Club resort is home to Cape May Cafe, which hosts Minnie's Beach Bash Breakfast. Minnie, Donald, Daisy and Goofy arrive in their finest beachwear to host breakfast. The buffet is delicious, with many options. The Mickey waffles are fantastic! This experience is similar to Chef Mickey's (minus Mickey) in both the characters available and the buffet selection. It is important to note that characters appear at breakfast only.
Cinderella's Royal Table
This meal may be a dream come true. In addition to meeting Cinderella in the lobby of her castle, you will be greeted by four of her princess friends while dining in her castle! The details of the dining room are beautiful and so are the sights below when looking out the windows over Magic Kingdom. If you time dinner right, you may even get to see fireworks from inside the castle! This meal is worth 2 table service credits for those on the meal plan and guests order from a small, yet tasty, menu. Cinderella's Royal Table is located in Magic Kingdom, meaning that you must have valid theme park admission in order to dine there.
Related Content: Disney World 2018 Free Dining Details
Akershus
Located in the Norway pavilion of Epcot's World Showcase, Akershus gives you the opportunity to meet five princesses as you enjoy some of Norway's finest dishes. The character interactions are wonderful and young princes and princesses are invited to parade around the dining room with the Disney princesses. Food service is slightly different here, with cold items served in a buffet and warm items brought to the table. This is a great alternative to Cinderella's Royal Table for those looking to have a meal with the princesses. It is worth one table service credit on the dining plan. Breakfast may be better for less adventurous eaters, as it is filled with more American food. Lunch and dinner are traditional Norway fare. Because Akershus is located in Epcot, Valid theme park admission is required.
Garden Grill
This rotating restaurant overlooks the Living with the Land ride in Epcot. (It moves very slowly. It took us a while to realize it was moving when we first ate here.) Meals are served family style using some of the food produced in the Living with the Land ride greenhouses. The food is wonderful and is all you care to eat. Mickey, dressed as a farmer, Chip, Dale, and Pluto all stop by and visit while you enjoy your meal. The Garden Grill is located in Epcot and requires valid theme park admission.
Related Content: Best Alternatives to Autograph Books
Important Information About Character Meals in Disney World
For character meals inside the parks, you may be able to get pre-park opening reservations. Getting to enter the parks early, before the crowds, gives you wonderful photo opportunities in an empty park. You also may be the first in line for popular rides. Pre-park opening reservations may be worth this alone to some. The character meal is a bonus!
Please note that all characters listed are subject to change. Character meals in Disney World are very popular, so it is important to make reservations. Reservations may be booked 180 days in advance by calling 407-WDW-DINE, visiting the dining section of Disney World's website, or using the My Disney Experience app.
Planning help and many other tips such as these are available in Disney World Vacation Planning Made Easy. 
Character meals are some of the most enjoyable meals at Disney World. Combining great food with wonderful character interaction, they are the best of both worlds. You are able to meet multiple characters at once while also enjoying a delicious meal!
What are your favorite character meals in Disney World?