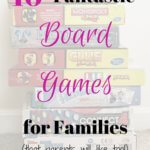 Have you ever thought a game would be perfect for family game night and it flopped? Or have you been stuck playing a game you really disliked even though your kids thought it was great?
If your kids are anything like mine, they love playing board games. We plan family game nights a few times each month. While the kids are happy playing any game, Nick and I are a little more selective. We have come up with a list of kid and parent approved board games for your family.
Note: With many of these games, our younger children team up with a parent for some help.
This post contains affiliate links. For more info, see my disclosures here.
Related Post: Easy Toy Organization System Kids Can Use
The 10 Best Family Board Games
1. Clue Junior – This is our family's top pick. If you loved the original Clue board game you will be happy playing Clue Jr. We all enjoy trying to be the first to figure out who ate the cookies, paired with which drink and at what time. The directions are easy to follow. It is so fun and fast paced that we usually end up playing at least two rounds every time we take this game out!
2. Disney Eye Found It
 – There are many versions of the Eye Found It game. We are a Disney loving family and this game contains scenes the kids are familiar with. One thing we love about this game is that you win or lose the game as a team. Each person picks a character. On your turn you will end up moving your character, searching as a team, or ticking the clock forward on Cinderella's castle. The object is to get each person's character to the castle before midnight strikes!
3. Connect 4
– We enjoy playing this classic game in teams because our children are younger. Nick and I each team up with a child and help them think through their moves. This develops their strategic thinking skills. They are also able to play a more complex game with each other when they want to play without adults. As they get older we may have two sets being used at the same time!
4. HedBanz
 – This is a game that even our youngest (3) can play with minimal help. We all take turns giving each other clues until each person guesses what is on their headband. We have two versions of this game, the original version and the Disney version.
5. Monopoly Junior
 – If you are immediately concerned because of how long it takes to play the original version of Monopoly, let me soothe your fears. This version has all of the fun of the original and is played in a fraction of the time. How is that possible? Well, there is much less money involved. Also, instead of building multiple houses that you then trade in for a hotel, only one simple token is allowed on each property. There are even advanced rules if you would like to extend the game!
6. Pictopia: Disney Edition
 – This is another game that has multiple editions, so everyone can find at least one that suits their family. In this game, players use wager coins of different values when answering multiple choice trivia questions. There are group questions and individual questions. When a player gets the answer correct, they move that number of spaces on the board. If they're wrong they stay where they are. To win, a player must get to the castle and answer a final challenge question correctly.
7. Disney Junior Super Stretchy
 – This game is very similar to Twister. The main difference is that it is for one player at a time. This rule makes it very kid friendly. Using cards, another person calls out where the player must place each hand, each foot and their head. The younger kids love it! The older kids can also play it by themselves and/or help the younger kids play.
8. Life Junior
 – To play Life Junior, each player takes turns spinning and moving around the board. Players choose the attractions they visit as they travel around the board. They collect stars at each stop and can also collect them with some of the action cards. The first person to get ten stars is the winner!
9. Guess Who?
 – This is another two player game that we absolutely love to play in parent/child teams. The kids need to think of adjectives when asking the other player (or team) about who their character is. An example of a question they may ask is, "Does your character have long hair?" They also need help figuring out which people on the game board to flip down once their question has been answered. If the other player says no, they need to put down all the characters with long hair so that they can see the remaining characters with short hair. Sometimes they get confused and reverse this.
10. Traditional Card
Games – Kids love learning new card games. The best part is that families can tailor the games to the children's abilities. We like to start with 'Go Fish' because it's a simple game that the kids can master even when they're young. From there, they can graduate to Slap Jack, Old Maid, Crazy Eights, Rummy, etc. All you need is a deck of cards!
Our family's favorite card game is cribbage (a cribbage board is needed in addition to the cards). We started teaching the kids how to play during our family vacations this summer. They loved it!

Family time and family traditions are important in creating wonderful memories. Having family game night ensures quality time together as a family. Plus, it's a lot of fun!
What games are tops on your family's list?
We are a participant in the Amazon Services LLC Associates Program, an affiliate advertising program designed to provide a means for us to earn fees by linking to Amazon.com and affiliated sites.